Brexit Bulletin: An Unworkable Plan
(Bloomberg) -- Today in Brexit: Before another crucial EU summit, Theresa May has been told the latest proposal lacks votes back home.
As British Prime Minister Theresa May heads to Brussels for the latest round of negotiations, she does so with a clear – and troubling – message ringing in her ears.
Chief Whip Julian Smith told May and her top ministers on Tuesday that the British Parliament would vote against the latest proposal for Brexit, Bloomberg's Tim Ross and Ian Wishart report. Smith, in charge of ensuring May's fragile government can pass legislation, said the current plan for a so-called backstop guarantee to avoid a policed border with Ireland will fail since it risks tying the U.K. into the bloc's trade rules forever.
The warning came a day before May is due to address European Union leaders in Brussels and highlights her dire need to convince them to show some flexibility on the issue that's stumped negotiators for more than a year.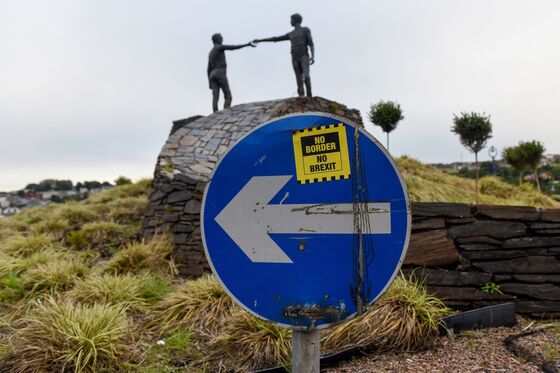 May will meet EU President Donald Tusk for a one-to-one discussion when she arrives on Wednesday, and, while negotiators have made real progress in other areas, according to a senior British official, the problem everyone keeps coming back to is how to keep the Ireland-U.K. border free-flowing for trade after Brexit.
The issue dominated the marathon two-and-a-half hour meeting of senior ministers in London yesterday. While there were no threats to resign, the mood was far from cheery, with the cabinet agreeing that the EU's proposals weren't good enough, and also discussing the prospect of another meeting soon to plan for the worst-case scenario of a no-deal scenario. Meanwhile, Chancellor of the Exchequer Philip Hammond warned the U.K. will face a £36 billion ($47.5 billion) Brexit bill if it fails to reach a trade deal with the EU, according to the Telegraph.
That contrasts with a slightly more upbeat outlook in Brussels, where EU officials expressed confidence that an agreement is in reach within the next few weeks.
A French official said the government expected progress on the Irish border issue and raised the prospect of another summit in early November. So far, a tentative Nov. 17-18 weekend summit has been penciled in for a final signing. Meanwhile, a German official told reporters there's no indication that talks will collapse and that negotiations remain on track to meet November timeframe for a deal.
Chief EU negotiator Michel Barnier briefed European ministers on Tuesday and diplomats came away thinking a deal could be reached in early November. Others said it might drag on until December, but there's still no sense of panic. 
A senior U.S. Treasury department official warned that a hard Brexit could hurt global financial stability, Bloomberg's Saleha Mohsin reports.
The EU's Barnier is open to the possibility of extending the U.K.'s transitional period by a year in return for May accepting a "two-tier" backstop to avoid a border in Northern Ireland, the Financial Times reports.
Former U.K. Prime Minister John Major was back on the warpath on Tuesday, laying into Brexiteers in his own Conservative Party and warning them that voters won't forgive them for making promises "that will never be delivered." 
Ask Bloomberg | What do you most want to know about the Brexit process? Once the dust has settled on tonight's summit Bloomberg reporters and editors will answer your questions on where we are — and where we go next. Are you confused about the Irish backstop? Maybe you have questions about the trade, tariffs, or the parliamentary math back in London. Please send us any and all questions. We'll answer in a special edition of the Brexit Bulletin on Friday morning.
The Latest Idea | EU and U.K. negotiators are working on a way to try to make the backstop more acceptable to the British parliament, diplomats said. One idea being looked at is to remove from the withdrawal agreement references to keeping Northern Ireland in a separate customs territory, Ian Wishart reports. Instead, a U.K.-wide temporary customs arrangement would be set out in the political declaration on the future relationship. For that to work, the two sides would have to find acceptable legal language that links the two documents and still makes the original EU backstop the ultimate fallback.
Tusk Pessimism | For all the more upbeat mood music in Brussels, EU President Donald Tusk presented a far less rosy outlook, telling reporters that the Irish backstop issue was "like a new version of the Gordian knot." Only new proposals from May's government can break the deadlock, and recent developments "give me no grounds for optimism" going into the summit, he added.
Wage Gains | The U.K. economy got some good news on Tuesday, as a report showed wages are rising at the fastest pace in almost a decade. While that's a sign that inflation pressures are building, the Bank of England may not be able act until it gets clarity on Brexit.
Advertising Pace | Growth in U.K. advertising budgets has slowed to its weakest in 2 1/2 years as Britain struggles to define its future relationship with the EU, the Institute of Practitioners in Advertising said Wednesday.
No Place at the Table | While May will address leaders before their dinner on Wednesday, she won't be sticking around to eat. Following her appearance, the EU27 will scuttle off on their own to discuss what she's said, according to a EU official who briefed reporters.
On the Markets | Pound traders are beginning to accept they may have to wait longer for clarity on a divorce, write Bloomberg's Charlotte Ryan and Anooja Debnath. The currency climbed on Tuesday, even amid signs this week's summit wouldn't yield a deal, and was little changed in early trading Wednesday.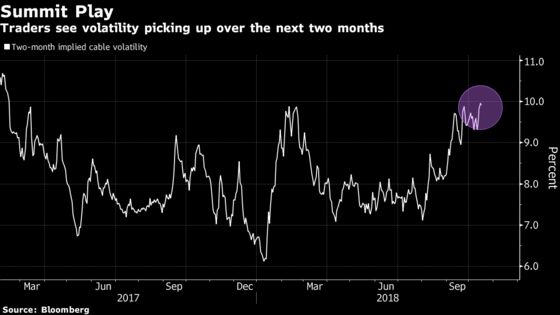 Coming Up | Senior civil servants testify before the Brexit committee, while Environment Secretary Michael Gove will be questioned by a Lords panel. Later on, Prime Minister May is due to address EU27 leaders in Brussels. International Trade Secretary Liam Fox will give his first Mansion House speech.
Want to keep up with Brexit?