Brexit Bulletin: A Fleeting Victory
(Bloomberg) -- Today in Brexit: After a rare good night in Parliament, Prime Minister May is heading for even bigger obstacles.
Theresa May — who spent a year and a half stitching together a Brexit deal — has now promised to go back to Brussels to try to secure a new agreement within a far shorter timeframe.
In a rare victory, members of Parliament last night backed her Plan B to scrap the most difficult part of the divorce package and reopen talks with the European Union. But the moment of triumph could prove fleeting — the EU has already signaled opposition to any changes. And while May has finally found a way of getting a majority in the U.K., it requires her to keep on board pro-Brexit MPs who have so far shown little interest in compromise.
The prime minister now has just two weeks to make enough progress to placate her divided Conservative Party before facing Parliament. If she fails, lawmakers could once again reject her proposal on Feb. 14, increasing the chances of a messy no-deal exit and economic chaos after the March 29 deadline. May is expected to return to Brussels to begin her work within days, and top of the PM's list of changes is an overhaul of the back-up plan for the Irish border, the most controversial part of the exit package. In better news on the home front, Labour leader Jeremy Corbyn finally bowed to pressure and agreed to meet her to discuss a way forward.
May's promise to renegotiate her deal came after another dramatic night in Westminster on Tuesday, which you can relive here with our live blog of the proceedings. In a series of key votes:
May won backing for Conservative lawmaker Graham Brady's plan to reopen the Brexit agreement and promised to demand "legally binding changes" to the so-called backstop arrangement for the Irish border.
May defeated a move by Labour politician Yvette Cooper to give Parliament the power to force a delay to Brexit day.
May lost when the Commons backed an amendment stating that it is opposed to leaving the EU without a deal. While largely symbolic, this sends a clear signal that Parliament is likely to block a no-deal split at a later date, if necessary.
Traders didn't like what they saw and sent the pound down as a result — even though the reaction wasn't as severe as it could have been. U.K. businesses were also unimpressed, with lobby groups warning that the continued uncertainty would mean companies would be forced to activate contingency plans and funnel jobs and activity away from Britain.
Much of the pessimism stems from the stance of the EU, which says that nothing has changed. Minutes after the votes concluded, a spokesman for the bloc said it would not renegotiate the exit deal. While diplomats say there are a variety of options for agreements that could lie alongside the deal and could even be legally binding, they acknowledge this might not be enough for U.K. politicians.
The EU spokesman added that the bloc is ready to consider a delay to the March 29 departure date. May hasn't ruled out an extension, but at least for now she's sticking to the plan to leave on time.
Amid the various options that lie ahead, the so-called "Malthouse Compromise," which has temporarily united some warring factions of the Conservative Party, is gaining a lot of attention. Bloomberg's Robert Hutton explains the substance behind the intriguing title.
Bloomberg's Dara Doyle outlines why, despite a week of missteps and May's promised renegotiation, Ireland still reckons the prime minister is boxed in on the Brexit backstop.
The U.K. just opted for more dithering and delays, according to the Bloomberg Opinion editorial board, while Anand Menon, director of The U.K. in a Changing Europe, writes in the Guardian that the nation is now closer than ever to a no-deal departure.
Economic Costs | As the political wrangling continues, reports in the past 24 hours have underlined the toll Brexit is already taking on the U.K. economy. YouGov said on Tuesday that consumer confidence has sunk to the lowest since May 2013, while a survey today shows that optimism among British employers is at the lowest since in the wake of the referendum. Much of the damage is likely to be irreversible, according to Dan Hanson of Bloomberg Economics, who writes that even if the U.K. were to hold a second referendum and opt to remain, it wouldn't undo the impact of the 2016 vote to leave.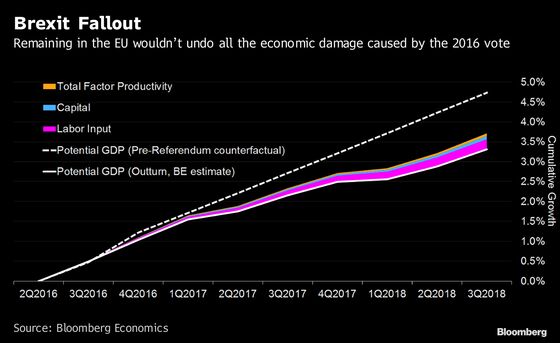 BOE's Brexit Debate | They've been presenting a united front in recent months, but Bank of England policy makers may be on course for a split over the correct response to Brexit — especially if the U.K. crashes out without a deal.
Drinks Order | Companies are stepping up efforts to make sure British drinkers won't go thirsty in the event of a no-deal Brexit. Whether they want to pop champagne bottles or drown their sorrows, Spanish vineyards have said they are shipping as much Rioja as they can before the U.K. leaves, the owner of the Veuve Clicquot champagne and Belvedere vodka brands has added four months of wine and spirits inventory in the U.K., while the owner of the Slug and Lettuce chain of pubs said it has bought an additional three months' worth of Prosecco to keep supplies running.
Pub Chat | On the subject of pubs, Tim Martin, the founder of JD Wetherspoon, told Bloomberg TV on Tuesday that U.K. food prices can go down if the nation abandons import tariffs after Brexit. Supermarkets writing to the government about fresh-food shortages and prices are having "a nervous breakdown," according to Martin, an outspoken supporter of the decision to leave the EU.
Good News About the Chocolate Oranges | Bloomberg's Kitty Donaldson explains how Terry's Chocolate Oranges played an instrumental role in bringing together some members of May's Conservative Party. Ironically, while Terry's was originally a British business, it is now owned by a French company, Carambar.
Want to keep up with Brexit?