Brexit Bulletin: A Bigger Problem
(Bloomberg) -- Today in Brexit: The U.K. cabinet is bitterly divided over Brexit, and the Irish border isn't the only problem.
It's tempting to think Prime Minister Theresa May's only difficulty in the Brexit negotiations is to find a solution to the Irish border conundrum. After all, it's the only substantial question left to resolve in the U.K.'s divorce treaty, which needs to be finalized within the next few weeks. But the inability to find answers may be a symptom of a wider problem.
As Tim Ross reports today, two factions in May's cabinet are battling over the issue of how to avoid customs checks at the Irish frontier without tying the U.K. into the European Union's trade regime forever. The EU says there must be a "backstop" – an insurance policy that will keep the border invisible "unless or until" a better future post-Brexit arrangement is agreed.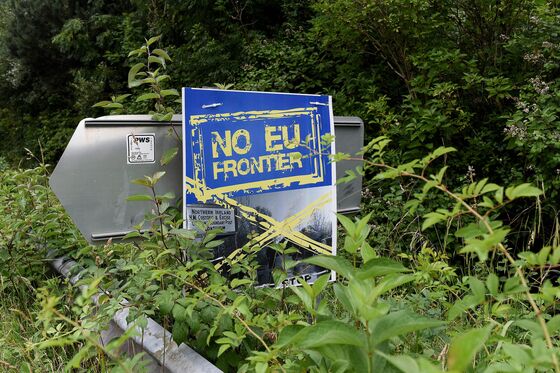 The "unless or until" language, first mentioned in the EU's plan for the Irish border backstop in February, highlights May's difficulty. The U.K. doesn't have an agreed clear vision for what it wants its future relationship to look like, and while this remains the case it's difficult for May to get political buy-in for any version of the backstop. While the government remains divided over how close the U.K. should be to the EU after Brexit, any backup plan for Ireland doesn't look quite as temporary as it otherwise might.
Negotiators are looking at various ways to help May make the Irish backstop more sellable. Brexit-backers in her cabinet are demanding a legally binding mechanism to pull Britain out. They fear that the U.K. will stay tied in a customs union with the bloc indefinitely, preventing the country from striking new trade deals around the world – a key prize of Brexit for those who campaigned for it.
That's unlikely to wash with the EU, which says that the backstop can work as an insurance policy only if the "unless or until" language remains. At a summit in Brussels last week, May offered further compromises, pledging to consider extending the U.K.'s post-Brexit transition period and to drop her demand for a strict end-date to the backstop. It still isn't enough and, as with May losing control over the warring factions within her team, it's why many EU member states now struggle to see how May can push any reasonable negotiated accord through Parliament.
Monday is Budget day in the U.K. Read Bloomberg's Jess Shankleman on why Chancellor of the Exchequer Philip Hammond is a marked man.
Ireland's largest hotelier suspended its U.K. expansion plans after 2016 referendum. Now they're back on, Dara Doyle reports.
Writing in The Times, Conservative lawmaker Nick Boles says momentum is increasing in the U.K. Parliament in support of Britain having the same relationship with the EU as Norway does – at least for now.
Straight Talking | Theresa May invited 120 business leaders to a Brexit question-and-answer session next week to update them on her strategy for unblocking the stalled negotiations. With time running out to secure a deal, business groups are desperate for certainty. In particular, CEOs want reassurances that the U.K. will secure a 21-month transition period after its departure from the bloc in March.
Blame Game | Brexit Secretary Dominic Raab said the government needs to prepare for the worst-case scenario of French authorities adopting a "go-slow" approach to goods crossing the U.K.-France border. While the failure of talks to reach an agreement is "unlikely," it's still possible, he said. "There certainly is a risk of no-deal, especially if the EU engage in a deliberately intransigent approach," Raab said in Parliament.
Pretty Permanent | Democratic Unionist Party leader Arlene Foster said she's doubtful that the U.K. will be able to escape "temporary" links with the EU, adding another hurdle to May's efforts to break the Brexit impasse. "I am skeptical of claims about any agreements or arrangements being temporary," Foster wrote in the Impartial Reporter, her local Northern Irish newspaper. "I am not in the camp that 'no deal' is the best way forward. However, no unionist can sign up to a deal which cuts Northern Ireland off from the rest of the U.K."
Uneasy Brexit | Private-sector banks should take adequate steps to protect themselves against the worst effects of a no-deal Brexit in a timely fashion, according to Mario Draghi. The European Central Bank president said if Brexit day looms with no deal in sight, lenders will have to start preparing for a so-called hard Brexit. While that may lead to some "financial uneasiness," it would take "an extraordinary amount of lack of preparation" for a no-deal Brexit to trigger large financial-stability risks, Draghi said.
Slow Growth | A no-deal Brexit would mean a difference of 1.6 percentage points to U.K. growth next year, the National Institute of Economic and Social Research says today. Reverting to World Trade Organization's most-favored-nation status rules, the U.K.'s gross domestic product would increase by only 0.3 percent in 2019, it said. By contrast, a trade deal that preserves most of the current arrangements would mean the economy will grow 1.9 percent next year, more than the think tank's previous forecast of 1.7 percent.
Trade Blow | Meanwhile, U.K. International Trade Secretary Liam Fox said his plan to normalize the U.K.'s World Trade Organization commitments quickly has failed, forcing the government to enter into what will likely be lengthy negotiations with other members on basic terms of trade after Brexit. Without certified WTO commitments on market access and tariffs, it's still possible for the U.K. to trade but could make it more difficult to strike new trade deals.
Meat Market | The price of minced beef could go up by 50 percent if the U.K. leaves the EU without a deal, according to a report in the Guardian, based on figures from the International Meat Trade Association. Trading on WTO tariff terms would push the cost of meat imports so high that the price of some of the U.K.'s favorite dishes, such as spaghetti bolognese and shepherd's pie would soar, the report said.
Want to keep up with Brexit?