Brexit Boosts Pound Trading on Both Sides of the Atlantic
When it comes to popularity, sterling has Brexit to thank as its rapid shifts in value encouraged more investors than ever to trade the currency.
Not only did the daily turnover in the pound versus the dollar climb to a record in the U.K. in October, it jumped by more than any other currency pair in the U.S., according to central bank data. The pound's prevalence came at the same time as falling market share for the Chinese yuan, casting doubt about its touted rise toward the kind of global status enjoyed by the dollar and the euro.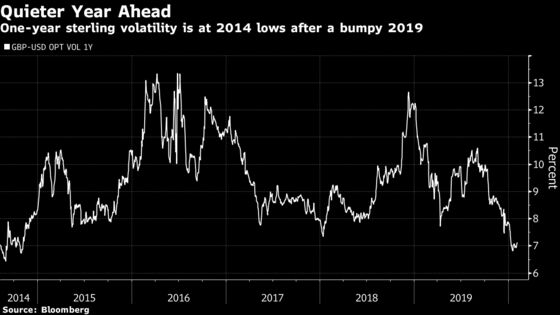 "The increased levels of trading in sterling pairs is hardly a surprise, given it has effectively been a proxy for one of the most significant political events in a generation," said Dan Marcus, chief executive of foreign-exchange platform ParFX. "However, the decline in dollar-renminbi is larger than most market observers probably expected."
The U.K. currency was the most volatile among its Group-of 10 peers in October, as political wrangling over a Brexit deal dominated the rhetoric. It sank in September to the weakest level since 2016, but then jumped more than 5% in October after U.K. Prime Minister Boris Johnson secured an exit deal with the European Union.
This year, the pound has seen its volatility fall, with expected swings over the next year near its lowest level since 2014. That said, investors are on edge as the U.K. and Brussels start negotiations for trade agreements before a deadline at the end of the year.
The central bank data also sowed some doubts about the rise of China's currency. The yuan's share of the market fell back from record levels, as turnover against the dollar decreased by 14%, according to a survey of market participants by the Bank of England. That decline stood out as a factor that needs to be watched, according to Stephen Gallo, European head of currency strategy at the Bank of Montreal.
"A whole host of things from coronavirus to the political tension in Hong Kong to the shift in the global trade order suggest that the process of the ascendancy of China's currency will take even longer," he said. "Watch data from the IMF on the pace of yuan accumulation by reserve holders for further insight."