Brexit Barometer Plunges to Eight-Month Low in September
(Bloomberg) -- The Bloomberg Brexit Barometer sank last month to the lowest level since January, returning to "windy" conditions for the first time since early 2018. Weakening sentiment principally drove the decline, even as the U.K. economy appears on course for its best calendar quarter in almost two years.
The barometer, which includes data for growth, labor market, inflation and other key economic indicators, skidded to 12.8 in September from a revised 26.5 in August. The gauge had spent seven months in "cloudy" or "partly cloudy" conditions.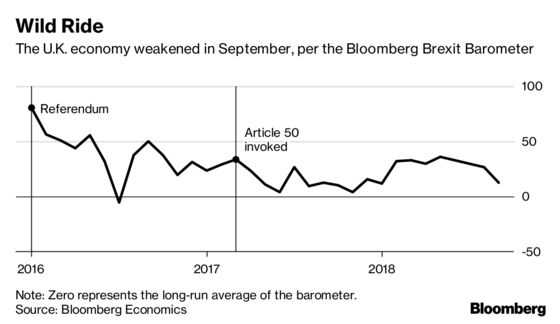 The drop in confidence was widespread. Business sentiment in the industry sector fell to the lowest since May and retail-industry hiring expectations hit a seven-month low. Confidence among managers in the manufacturing sector also declined to the lowest level since May, while consumer confidence eased.
At the same time, gross domestic product expanded 0.7 percent in the three months through August, official data showed. A similar performance in September would leave growth over the third quarter at 0.6 percent, up from 0.4 percent in the second and the most since the end of 2016.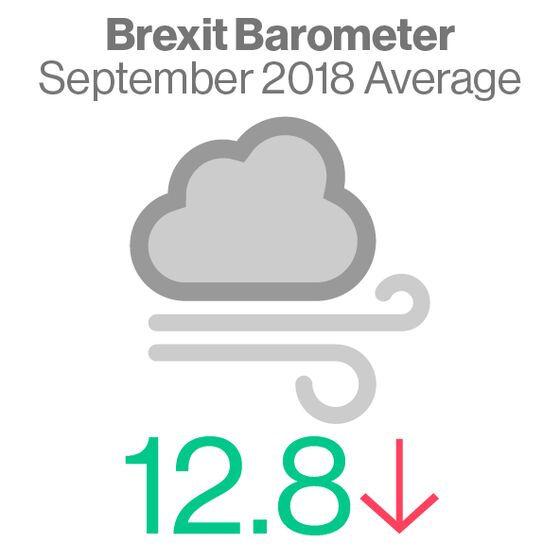 Inflation likely eased last month after unexpectedly accelerating in August, though the move reflected price gains in volatile categories. Bloomberg Economics still expects inflation to slow in the coming months, especially as the influence of the pound's past weakness wanes.
The cooling in the Barometer in September chimes with our view that economic growth was buoyed over the summer by the hot weather. The official data is likely to show the economy grew above its "speed limit" in the third quarter, but we expect growth to moderate in the fourth. Beyond the end of the year, the economy's fate will be determined by the terms of Brexit. A deal could provide a boost to growth over 2019 as the potential for a no-deal scenario gets quashed.
—Bloomberg economist Dan Hanson
The barometer is calculated every day with the most up-to-date data available. The monthly average, used to help smooth daily volatility, gives a better sense of the underlying trend.
Britain and the European Union are now dashing for the finish line in the Brexit negotiations, having made virtually no progress since March and less than six months until the U.K. departs. Tensions increased after a disastrous mid-September summit in Salzburg, Austria, where EU leaders bluntly rejected Prime Minister Theresa May's proposed Brexit plan.
Both sides started ramping up preparations for a no-deal scenario.
Two key issues still need to be sorted out: the overall shape of future U.K.-EU trade relations, and the Irish border problem. Negotiators in both camps want to show progress by next week's EU summit on Oct. 17, with the goal of signing the deal in mid-November.