Our Brexit Barometer Monitors the U.K. Economy. It's Now the Lowest Since 2013
(Bloomberg) -- The new year was meant to be a time for final preparations for Brexit, officially slated for March 29. Instead, the U.K. Parliament has yet to approve the divorce accord that Prime Minister Theresa May brought back from Brussels. That's caused fears of a no-deal exit to ripple dangerously through the real economy, according to the Bloomberg Brexit Barometer.
The gauge's monthly reading fell to a "rainy" minus 7.1 last month from a revised minus 6.8 in December, lower than any time since June 2013—even lower than the minus-5.8 reading seen right after the 2016 Brexit vote. The barometer includes data for growth, labor market, inflation and other key economic indicators. A reading below zero indicates "rainy" weather, a climate the barometer hasn't seen since the immediate aftermath of the referendum.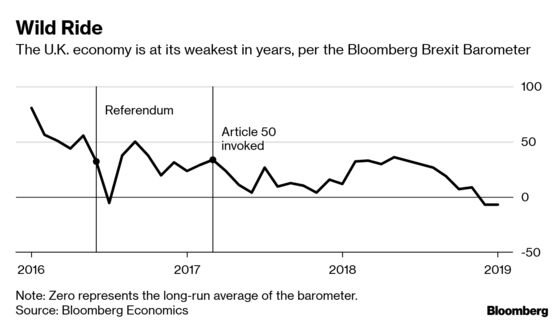 These economic storm clouds have been brought on in part by the worst employment situation in six years, with major weakness in the construction, industrial and retail sectors. Growth in services industries, which make up the vast majority of the U.K. economy, slowed to a near-standstill in January, data from IHS Markit showed on Tuesday.
Markit's purchasing-managers index for services plunged to a 2 1/2-year low last month as businesses said they were less likely to begin new projects and customers were more cautious on spending, blaming a lack of clarity around Britain's exit from the European Union.
The fall in the barometer is yet another piece of evidence highlighting the detrimental impact of Brexit uncertainty on the U.K. economy. Growth has slowed in recent months and with no sign of progress in negotiations, that trend looks set to persist.
—Bloomberg economist Dan Hanson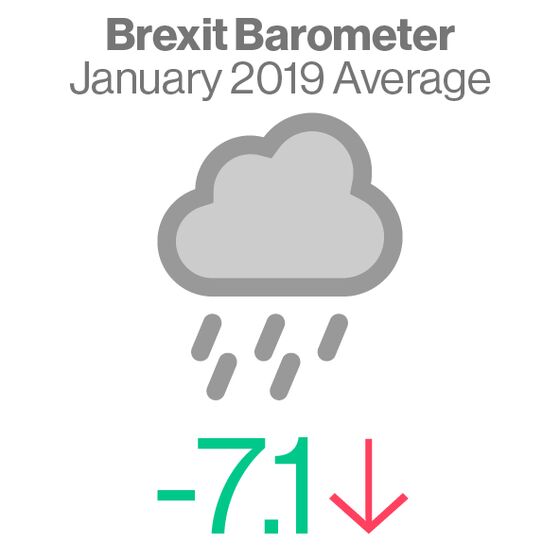 Perhaps most worrying: Britons currently have the lowest consumer confidence in the overall economic situation in seven years, as measured by the European Commission. Falling investment and a sagging property market add to indications that the economy is at risk of stagnating.
Saying Brexit hangs over the economy "like an ogre," Bloomberg Economics sees growth slowing to 0.3 percent in the fourth quarter and 0.2 percent in the first three months of 2019.
The Brexit Barometer's uncertainty index has been turbulent recently, in particular a closely watched measure of stock-market volatility. An indicator of implied volatility on the FTSE 100 has tumbled more than 50 percent after spiking in late December to the highest since the aftermath of the 2016 vote.