Turbocharged Treasury Curve Flattening Halted in Wake of Powell
(Bloomberg) -- Popular trades in the bond market were whipsawed after Federal Reserve Chair Jerome Powell indicated that monetary-policy tightening would still be gradual even as officials boosted the amount of interest-rate hikes they predict for next year.
The two-year Treasury yield -- which is closely tied to expectations for the main policy benchmark -- jumped to 0.72% in the wake of the Federal Open Market Committee's policy statement Wednesday, which announced an accelerated exit from the central bank's bond-buying program and showed a majority of officials predicting at least three quarter-point rate increases next year. But that move was soon unwound amid comments from the central bank boss, with the rate ending the day around 0.66%, while longer-end yields rebounded and bond-market expectations for inflation jumped.
"Powell was a bit more dovish in his messaging than the market anticipated," said Daniel Ivascyn, who helps oversee $2.2 trillion at Pacific Investment Management Co. "There is a general view that the Fed doesn't have to tighten too much to get inflation back in line. But there remains a lot of uncertainty about inflation next year and it could get worse before it gets better."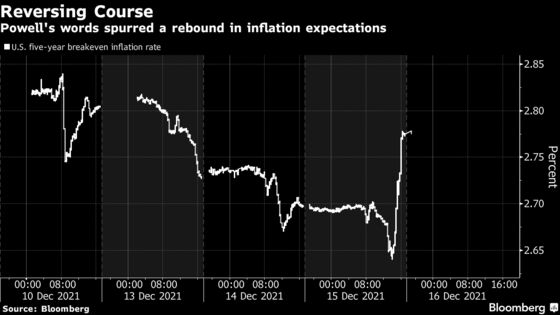 The initial decision saw money markets bolster bets on 2022 hikes, with more than 75 basis points penciled in at one point, adding to a longer-term flattening of the so-called yield curve which has proven a popular and successful trade for some bond investors recently. That flattening, and some of the increase in tightening bets, was then unwound as Powell spoke, commenting that the Fed will take the steps it has to take "in a thoughtful manner." That shift reflected not just the Fed chair's message, which was in many ways mixed, but also perhaps some profit-taking and position shifts within the market. 
"People are taking off positions they had built up and that is not surprising as we near the end of the year," said Alan Ruskin, chief international strategist at Deutsche Bank AG. 
As expected, the FOMC said it would double the pace of its bond tapering to $30 billion a month and end quantitative easing by March. The FOMC projected three quarter-point rate hikes during 2022, and affirmed a policy pivot that had been indicated by Powell earlier this month. 
At the close on Wednesday the swaps market was pricing in around 71 basis points of tightening for 2022, just shy of three full quarter-point hikes, and the first 25 basis points is fully priced for the middle of the year even though Powell did not close the door to something happening sooner.
"The market is not taking fully on board that they could hike in March," said Ruskin "Strong equities and well-behaved bonds mean that financial conditions are not tightening, so there is a risk that at some point the Fed will need to do a lot of heavy lifting."
In the meantime, the market remains leery of inflation risks. The so-called five-year breakeven rate on Treasury inflation protected securities -- a gauge of market expectations for consumer-price gains -- jumped as high 2.78% in the wake of Powell's comments after dipping to 2.64% earlier. And the yield on the 30-year Treasury bond climbed as high as 1.87%.
Some bond-market participants had been concerned that Powell might signal that officials had discussed actually considering a reduction to the size of its balance sheet before too long. That didn't happen, giving more upside room for bond traders to price into the inflation outlook.
"It was a bit of a dovish press conference," said Rob Waldner, chief strategist at Invesco Fixed Income. "Powell pushed back hard when asked if the economy was at full employment and said they are not behind the curve. It suggests the Fed is not in a hurry to raise rates next year, but the bond market is concerned that we are at full employment with record job openings and wages going up. Powell's push back on full employment was the dovish trigger for breakevens rising and the curve steepening."
Yet even with that rebound, longer dated Treasury yields remain relatively close to their recent lows and suggest a limited rate hike cycle. And money market expectations for rate hikes further out remain below the projections of Fed officials themselves. 
On the curve, meanwhile, Powell indicated that he was relatively unperturbed by the ongoing flattening trend, noting that a lot of factors go into determining long-bond yields -- including global rate structures -- and that it is very difficult to draw firm conclusions about long-term policy rates from such measures.