Faster Economic Recovery Has Long Way to Win Brazilians' Hearts
(Bloomberg) -- Brazil's economic recovery is picking up steam after three disappointing years, but ordinary Brazilians may not reap the benefits before next year's municipal elections.
Economists have been boosting 2020 growth forecasts since data published earlier this month showed gross domestic product expanded more than expected in the third quarter. October retail sales and industrial production numbers released a few days later suggested the trend is extending into the fourth quarter.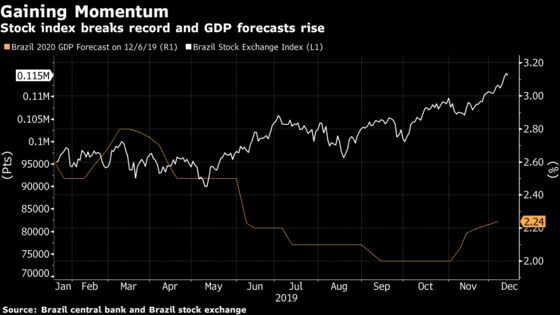 The central bank now estimates Latin America's largest economy will grow 2.2% next year, nearly twice the pace it has achieved since emerging from recession in 2017. Yet the sense of deja-vu is unavoidable: Estimates also stood above 2% at the beginning of 2018 and 2019 only to disappoint later, with gross domestic product expanding little more than 1% each year.
Even if confirmed, next year's faster expansion may be slow to translate into lower unemployment and particularly into formal and higher-paid jobs. Bloomberg Economics estimates Brazil's joblessness rate -- currently 11.6% -- will remain in the double digits throughout next year.
"We can see from the data that there has undoubtedly been an improvement, but in practice the average person doesn't see that," said Andre Perfeito, chief economist for Necton Investimentos in Sao Paulo. "He's still unemployed or underemployed, doing odd jobs, with no raise and suffering under the weight of certain products that inflation affects more."
While the improved outlook has driven Brazil's stocks to all-time highs, the recovery may not come in time to boost consumer sentiment -- and voter intention -- before the October vote that will be the first electoral test for allies of President Jair Bolsonaro.
That could hinder progress of additional reforms proposed by Economy Minister Paulo Guedes, who needs growth to give legitimacy to his agenda, said Joao Carlos Scandiuzzi, global strategist at BTG Pactual.
Guedes himself has repeated he's "not in a hurry to grow very fast" as he'd rather ensure the expansion is "healthy," or without unsustainable fiscal stimulus by the government. But his resolve may soon be tested as the political and economic realities clash.
Record-low interest rates mean little to unemployed Brazilians who don't have access to credit. Meanwhile, household debt levels are at their highest on record and consumer confidence sank almost 8 percentage points since January. And even as inflation remains below target, items such as food that weigh heavily on the budget of lower-income families are rising faster -- beef prices alone soared nearly 18% by mid-December.
The central bank sounds cautiously optimistic. In minutes of its latest interest-setting meeting, policy makers said the improved economic outlook may result in faster-than-expected reduction in economic slack, but stressed that such a slack remains elevated as signaled by the dynamic of core inflation.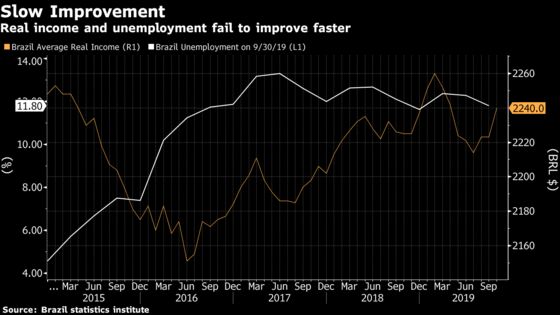 A less than cheerful mood among Brazilians could prove a drag on Bolsonaro's support in the municipal elections, a vote which lay the groundwork for general elections in 2022. Federal lawmakers throw their support behind mayoral candidates in the expectation that these influential local politicians do the same in return.
The first signs of economic recovery coincided with a marginal improvement in Bolsonaro's personal approval levels, which remain at 30% according to the latest Datafolha poll. But Bolsonaro's reformist agenda still has a long way to win hearts of the general population at the same rate it has done with businessmen -- 60% of whom say they like his administration.
"There's a delay of six to 12 months for interest rate cuts to have an impact on the economy, so the full effect of the monetary easing cycle on growth will be felt before the elections," said Adriana Dupita, Latin America economist for Bloomberg Economics. "But when that will translate into jobs, that's another story; it will depend for example on business leaders' confidence that growth will be sustainable to justify hiring."