Brazil Unemployment Hits Record During Second Covid-19 Wave
(Bloomberg) -- Brazil's unemployment rose to an all-time high as a second, deadly wave of the coronavirus battered the economy and infected millions across the country.
Joblessness hit 14.7% in the three months ending in March, above the 14.6% median estimate from analysts surveyed by Bloomberg, the national statistics institute reported on Thursday. The unemployment rate topped the previous record registered last September after thousands of businesses shuttered at the first peak of the pandemic. The data series goes back to 2012.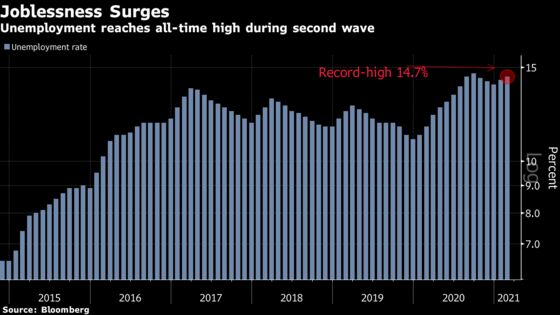 Brazil's unemployed population rose to 14.8 million people, also the highest on record. The numbers highlight the challenges ahead for the recovery of Latin America's largest economy. The government has pared back emergency aid to the poor, and many workers will be re-entering the labor market in coming months.
What Bloomberg Economics Says

"Labor market improved at the margin in March: adjusting for seasonality, the unemployment rate fell slightly and the employment level ticked up. But, the picture remains rather bleak. The number of people working is still 8.3% lower than pre-pandemic levels, despondency remains high, and total labor earnings remain depressed by both. A sustained recovery in labor market conditions depends crucially on the pandemic outlook."

--Adriana Dupita, Latin America economist
After injecting billions of dollars worth of aid into the economy last year, President Jair Bolsonaro's administration is running out of room for emergency spending while the pandemic still rages. It stopped cash handouts for the poor altogether in the first three months of 2021, but has since reinstated the transfers at a fraction of the previous amount.
At the same time, Brazil's immunization efforts have lagged as it struggles to sources materials and shots. Only about 10.1% of the population is fully vaccinated, according to Bloomberg's Vaccine Tracker.
Bolsonaro's popularity has suffered as the economy slowly recovers and the pandemic shows no sign of ending soon. The president's approval rating fell to 24%, down from 30% in March, the lowest of his tenure, according to a Datafolha poll released this month.
Going forward, some analysts warn the labor market may not rebound quickly. "The unemployment rate may not decline significantly as part of the sizable number of discouraged workers start to search for jobs and return to the active labor force at a faster rate than the creation of new jobs," Alberto Ramos, head of Latin American research at Goldman Sachs & Co., wrote in a research note.