Brazil Should Shun Venezuela and Embrace Israel, Bolsonaro's Son Says
(Bloomberg) -- Brazil should sever ties with Venezuela's socialist government, distance itself from Iran and consider recognizing Jerusalem as Israel's capital, said Eduardo Bolsonaro, son of the front-running presidential candidate.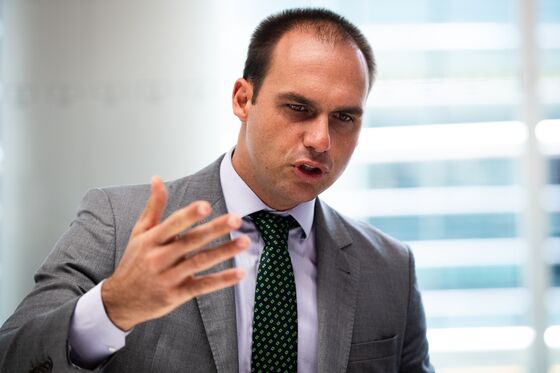 "You need to play tough with Venezuela. It'll be a 180 degree-change in relation to Venezuela," the lawmaker said in an interview on Wednesday in Brasilia. He is one of the most influential voices in the presidential campaign of his father, Jair. "I wouldn't recognize the Venezuelan government."
The objective, he added, is to have free elections in Venezuela. "If that's not possible - international sanctions."
If Jair Bolsonaro wins the runoff on Oct. 28 against the leftist former Sao Paulo Mayor Fernando Haddad, there would also be an end to friendly relations with Iran, Eduardo said.
"Pro-Iranian position? It'll change," he said in his Lower House office decked out with pro-gun and pro-life slogans, a bible on the table and miniature statues of Ronald Reagan and Donald Trump.
Would a Bolsonaro administration follow the U.S. lead in moving its embassy to Jerusalem? "We're very sympathetic to the idea. Our side is being against Hamas, Hezbollah, the Islamic state. "
The first trip of Bolsonaro as president-elect could be to Israel said, Eduardo.