Brazil's Richest State Backtracks Reopening as Virus Roars Back
(Bloomberg) -- Sao Paulo will reimpose tougher social distancing restrictions amid a jump in coronavirus cases that's filling up hospital beds across Brazil's richest state.
The whole state will regress to the so-called yellow phase of the reopening plan, which limits opening hours and capacity of shopping malls, restaurants, bars and gyms, among other businesses. The decision, announced by Governor Joao Doria on Monday, will mean tighter restrictions for about three-quarters of the state's 46 million people, who had been under looser rules.
"The yellow phase doesn't close businesses, bars or restaurants; it doesn't impact economic activity, it's just more restrictive to avoid crowds and contagion," Doria said at a press conference Monday, adding that the change doesn't affect schools. "We need to be careful, patient and resilient until we get a vaccine."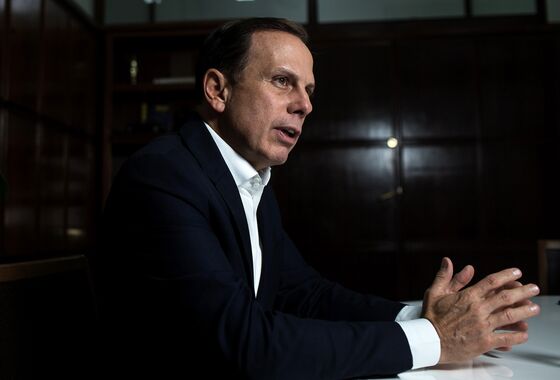 The reversal comes about two months after the largest city in South America went into the so-called phase green of the reopening plans, extending business hours and allowing movie theaters and museums to open for the first time since March. It also comes a day after the second round of municipal elections that saw incumbent Bruno Covas, a Doria ally, elected for a second term.
Last week, Doria had said his government was considering whether to reimpose more severe restrictions on the movement of people should a recent increase in Covid-19 cases persist. In early November, local media began to report a surge in hospitalizations in some of the wealthiest private hospitals in the capital of Sao Paulo. When the virus first arrived in the city in February, by plane as rich residents returned from vacations in Italy and Aspen, it was those institutions that first saw beds fill up. As the virus raced through the city of 20 million people, cases shifted to public hospitals.
Health experts say the rate of new infections accelerated following an increase in public gatherings. In the state capital -- as in several major cities around the country -- more people and fewer masks are in sight each week. In-person events, from college entry exams to soccer matches, have largely resumed with the easing of social distancing measures. Parties of younger people are especially concerning, Doria has said.
Brazil was among the last places to get hit by the first wave of the pandemic that originated in China, recording its first case in February. Now, as Europe and the U.S. battle another surge of infections, concerns are growing that Latin America's largest economy could once again be overrun by Covid-19. On Friday, the city of Rio de Janeiro said that 92% of its public UCI beds were occupied. In the Southern city of Florianopolis, a gauge used by authorities indicates a red flag situation. Brazil has recorded 6,314,740 cases of coronavirus, with 172,833 deaths. The country has the world's second-most deaths and third-most cases of the virus.
Sao Paulo state accounts for roughly 20% of the nation's cases of Covid-19. One in four Brazilians who have died from the disease were residents of the state.
Shorter hours, fewer people
The regression means businesses will now be allowed to open for a maximum of 10 hours a day, and must close by 10 p.m. Maximum capacity goes to 40%, from 60% in the green phase. Cultural events where the audience is seated, such as movie theaters, are still allowed to take place, officials said.
Sao Paulo saw a 14% drop in infections in the last week, considering a four-week moving average, while deaths and hospitalizations rose by 12% and 7%, respectively. Occupation of ICU beds in the city's metropolitan area is at 59%, and 52% in the state. Joao Gabbardo, a former health ministry official who now heads Sao Paulo's Covid-19 committee, said officials "are not at all comfortable" with the numbers from the last week, and while he had been against putting the whole state on the same phase, the data justify the move.
"We won't refrain from bringing back more restrictions if need be," the state's Health Secretary Jean Gorinchteyn said at the same press conference. "We need to test more, and improve contact tracing to control the pandemic."