Brazil's Real Is Slumping, Yet Stocks Find an Anchor in Earnings
(Bloomberg) -- Improving corporate results are propping Brazilian stocks up and helping ease the blow from election uncertainty that's sent the currency near its lowest level ever.
Earnings have been coming in solid and should continue doing so through the end of 2018, analysts say, due mostly to a combination cost reductions and record-low interest rates. It's a welcome change after years of falling profits as Brazil weathered the worst recession in history. Corporate earnings are expected to grow 32 percent in 2018 and 19 percent in 2019, according to Roberto Serwaczak, Citigroup's head of Latin America equity.
"We have a very constructive view," Serwaczak said in a interview at the bank's office in Sao Paulo. Citi expects the benchmark Ibovespa index to rise to 93,000 in the next 12 months, a 21 percent advance from current levels.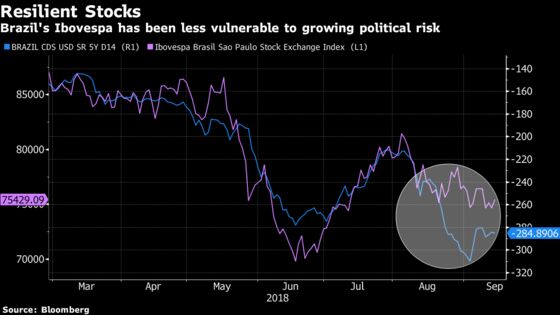 The real has lost 20 percent this year amid a rout in emerging markets and as a dozen candidates are vying for the country's top job. With less than a month to go, none of the market-preferred candidates have gained traction, losing ground to leftists who investors fear would backtrack on reforms and austerity needed to fix Brazil's fiscal accounts.
The slump has pushed the Ibovespa to its cheapest in U.S. dollar terms since December 2016, and there are some bargain stocks out there to be snapped up, said Peter Lannigan, head of emerging markets at Newfleet Asset Management.
"You still have a lot of good companies," Lannigan said.
While analysts are positive on Brazil's stock market, any significant jump will likely only happen after the October election as the long term is still linked to the outcome of the vote, said Frederico Sampaio, chief investment officer at Franklin Templeton Investments' Brazilian unit, which oversees 2.8 billion reais ($680 million) in equities.
"Fundamentals aren't bad; the problem is that expectations aren't good," Sampaio said. "Risks are skewed to the upside, but, when in doubt, nobody wants to lose money."