Big Deflation Sparks Talk of No Rate Hike in Brazil Next Year
(Bloomberg) -- Bets that Brazil may hold interest rates at a record low throughout 2019 gained strength on Friday after the country posted its biggest monthly deflation in 1-1/2 years.
Consumer prices measured by the benchmark IPCA index fell 0.21 percent in November, three times as much as economists expected. Swap rates on futures contracts, a barometer of expected interest-rate decisions, dove following the data's release. The most-traded contract, maturing in January 2021, fell 13 basis points to 7.78 percent by midday.
"We expect the first rate hike in September, but today's data put a bias for a even later hike, perhaps just in 2020," Luciano Rostagno, chief strategist at Banco Mizuho do Brasil, said in an email. Rostagno also lowered his end-2018 inflation forecast to 3.7 percent, 80 basis points below the government's 4.5 percent target, from 3.8 percent previously.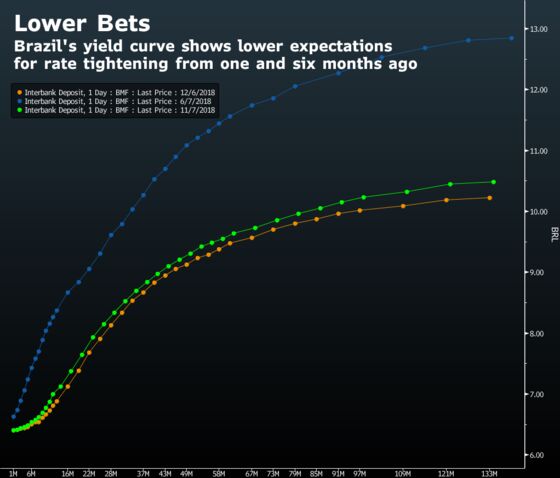 Below-target inflation will be a feather in the cap for outgoing central bank chief Ilan Goldfajn, who took the monetary authority's reins with consumer prices racing ahead at a nearly double-digit pace. The slowdown has permitted the government to lower its inflation target for 2019 and the central bank to keep its benchmark rate at a record low of 6.5 percent.
As recent as a month ago, traders expected monetary tightening to begin in March as inflation was slightly above target. Now, with the economic recovery slow to gain traction, many are betting on a scenario in which the Selic remains unchanged throughout 2019, according to economists including Banco Fibra's Cristiano Oliveira, CM Capital Markets' Camila Abdelmalack, and MZK Investimentos' Luiz Fernando Azevedo.
"The central bank sees rates as stimulative, but sometime in the future it could see that 6.5 percent as neutral," Azevedo said by phone.
In the 12 months through November, inflation slowed to 4.05 percent from 4.56 percent the prior month, the national statistics agency reported Friday. Deflation in November was led by electricity prices, which fell 4.04 percent, and their plunge was equal to three quarters of the monthly reading. Fuel prices also fell 2.42 percent, helping bring transport prices down 0.74 percent.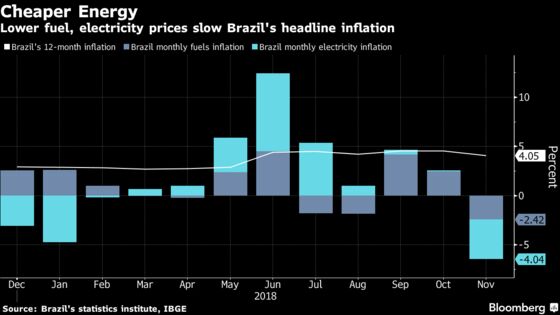 Tame price increases extended beyond specific components, however. That was underscored by near-zero core inflation readings and a low diffusion index, both of which are consistent with the economy's ample idle capacity that's unlikely to change anytime soon, according to Bloomberg economist Adriana Dupita.
"Policy-wise, we continue to see this development as supportive of a stable Selic for at least most of 2019," Dupita said. "If inflation remains well-behaved, the timing for a hike may end up being later rather than sooner."