Guedes Cites 'Waiver' for Fiscal Cap Bolsonaro Pledged to Uphold
(Bloomberg) -- Brazil's economy chief said the government could seek a "waiver" to the country's spending cap to fund its new social program, just hours after President Jair Bolsonaro said the extra spending would abide by the fiscal rule.
Paulo Guedes said the administration could ask congress for a 30 billion-real ($5.4 billion) waiver to the spending cap, which limits the growth of public expenses, in order to pay for a larger social benefit. The exception would be limited to 2022 and justified by the fact that poor Brazilians are being disproportionately affected by food and fuel inflation, Guedes said at an online event.
The comments renewed investor concerns about the nation's fiscal outlook, leading Brazilian assets to pare or erase gains seen earlier on Wednesday. Markets had rebounded from the previous day's losses after Bolsonaro said the new spending would have to be contained in the country's budget.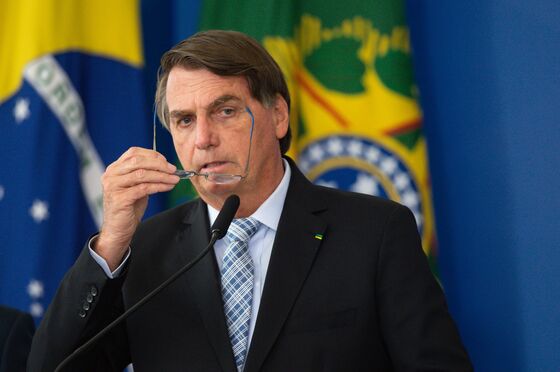 "We have a fiscal cap law that we respect," Bolsonaro said at an event in Russas, a city in northeast Brazil, without providing details on how the extra spending can be accommodated within the rule. "We have the responsibility to make these resources come from the federal budget, nobody will breach the cap."
Citizenship Minister Joao Roma also said in a speech in Brasilia that the government is debating options to have the social program meet the fiscal responsibility rules, without providing details.
Guedes, who spoke shortly before markets closed, said the government also mulls bringing forward a spending cap revision scheduled for 2026.  
"We want to be a popular, not a populist government," he said, adding that the country must remain committed to fiscal responsibility.
Read More: In Brazil, Anemic Growth Expected for the Rest of 2021
Brazilian assets tumbled the most in the world on Tuesday on reports the government would breach the country's spending cap rule, in place since 2017, to finance the new social program. 
The cap is seen by economists and investors as one of the key pillars of Brazil's fiscal policy, keeping public finances from derailing by limiting spending growth to the inflation rate of the previous year. The government bypassed the rule in 2020 and 2021, getting one-time exemptions approved in congress to accommodate pandemic-related expenses.