One in 200 Million Case Sends Brazilian Markets Tumbling Anew
(Bloomberg) -- It may be just one infection in a population of 200 million, but Brazil's first coronavirus case was enough to send local markets tumbling for a second day.
The Ibovespa equity index fell 1.8%, extending the biggest tumble since May 2017 yesterday. The largest exchange-traded fund tracking Brazilian stocks slid 2.8%. The real weakened 1.1% to an all-time low of 4.4970 per dollar even as the central bank stepped in to support the currency for the fourth time in two weeks.
Brazil reported the first coronavirus case in Latin America Wednesday and said there are 20 more suspected cases, underlining concerns about the spread of the illness outside China. Local assets plunged on Wednesday, catching up to a global sell-off after a two-and-a-half day Carnival holiday.
The central bank sold $1 billion in foreign-exchange swaps on Thursday, following a $500 million auction on Wednesday, in a bid to prop up the currency. The real has repeatedly reached new lows since Jan. 31 due to a global market rout, its diminished carry appeal, disappointing economic data and market positioning -- as it is used as a hedge for long positions in other local assets.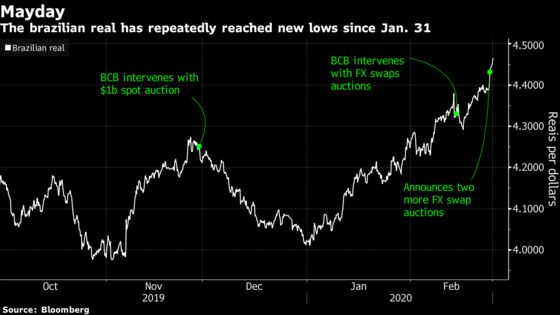 "The bias is for more risk aversion to creep in as the impact of the virus broadens across the world," said Gustavo Rangel, chief economist for Latin America at ING Financial Markets LLC in New York. "The impact on Brazil's economy exists but it's not as large as in the Andean countries in Latin America and certainly not as large as in Asia."
Rangel said the real may hover around 4.50 per dollar in coming weeks. The central bank intervention should prevent it slumping much further, but probably won't be enough to make it outperform emerging-market peers.
Brazil's five-year CDS leaped for a sixth day, up 10 basis points to about 120 basis points Thursday, moving away from the 10-year low reached last week. The spread on dollar bonds jumped 19 basis points, according to a JPMorgan index.
Equities are down about 8.6% this week led by travel-related shares. Airline companies Gol Linhas Aereas Inteligentes SA and Azul SA plunged 18% and travel services provider CVC Brasil Operadora e Agencia de Viagens SA dropped about 14%.
It's not all bad news though. The Ibovespa's 14-day relative strength index has declined to below 30, showing it may be oversold. Marcos Peixoto, the co-head of equities at XP Asset Management in Sao Paulo, says some large caps including banks, Petroleo Brasileiro SA and Vale SA may draw investors attention.