Endless Lines of Brazil Job Seekers Show No Relief in Sight
(Bloomberg) -- Brazil's job market weakened in the first quarter, with 13.4 million people out of work and often forming massive lines to compete for precious few openings.
The jobless rate surged to 12.7 percent in the first three months of the year, its highest level in 10 months, the national statistics institute reported Tuesday. Economists expected the rate to rise to 12.9 percent, according to a Bloomberg survey.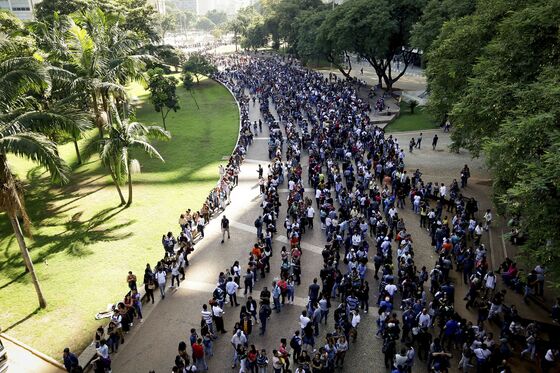 With one quarter of Brazil's work force either unemployed or underemployed, family consumption that has been the economy's traditional growth engine is sputtering, and record-low interest rates are doing little to stimulate growth. Moreover, the weak job market is starting to hurt the popularity of President Jair Bolsonaro among the poor.
While unemployment has risen in the first quarter in each of the past seven years due to seasonal factors, economists don't expect the rate to return to single-digits anytime soon. In March, the economy unexpectedly shed more than 43,000 formal jobs, whereas analysts expected a gain of 80,000 positions. The number of new positions -- in both the formal and informal sectors -- is only slightly higher than that of Brazilians entering the job market, according to Adriana Dupita, Bloomberg's Latin America economist.
Brazilians are desperate to lock in a steady pay, which means new job offerings are often overwhelmed by a stampede of applicants. Last month, 15,000 people showed up to the first day of a job fair in Sao Paulo and formed a massive, snaking line to jockey for positions paying an average 1,500 reais ($380) per month, according to City Hall. That's just slightly above the minimum wage.
Earlier this month, Sao Paulo supermarket chain Sonda Supermercados affixed two small, handwritten signs to the fence of the construction site for its new location, announcing it sought 160 employees. It was quickly inundated with more than 7,000 applications, many from people who were over-qualified and even held college degrees, according to Roberto Moreno, the company's executive director.
"Although this year we've had more hirings than firings, it's still very timid; a lot of people are unemployed," Moreno said by phone. "Either industry and commerce start to foment this, with some programs from the government, or unemployment will stay at this absurd level."
Fear of unemployment rose in April following a steep decline in the wake of Bolsonaro's election, according to a survey the national industry confederation published Tuesday. After two years of recession and another two of disappointing growth, Brazilians are losing patience with unfulfilled job promises. Bolsonaro's popularity has dropped, according to an Ibope survey of 2,000 people between April 12 and 15. The biggest plunge in his approval rating was among families making between one and two minimum wages -- to 33 percent from 48 percent in January.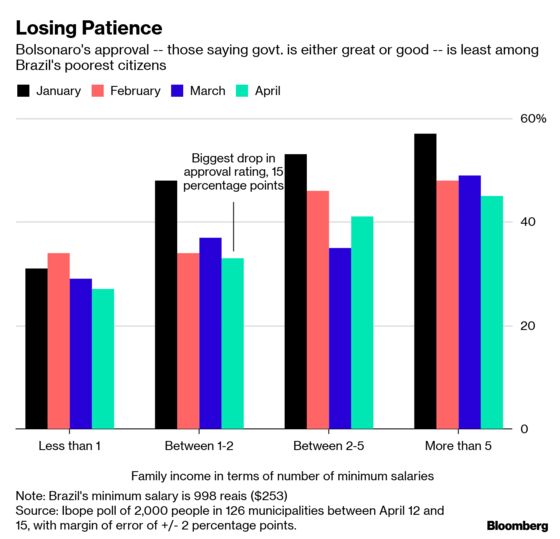 "Unemployment is probably one of the reasons why Bolsonaro's popularity is weakening,'' said Bloomberg's Dupita. "And because there are no magical solutions to the problem, it will be hard for him to recover that popularity.''