Brazil's Eletrobras Surges on Privatization Comments by Official
(Bloomberg) -- Centrais Eletricas Brasileiras SA rose as much as 11 percent after a Brazilian government official said that Latin America's largest utility should be privatized.
The "Plan A" of President Jair Bolsonaro's administration is to capitalize the company in order to dilute the government's stake so that's it's no longer the controlling shareholder,
Salim Mattar, a secretary at the Economy Ministry in charge of privatizations in Brazil, said Tuesday. A second step could be the sale of Eletrobras, as the company is also known, he said during an event in Sao Paulo promoted by Credit Suisse Group AG.
Eletrobras's common shares rose 8.9 percent to 37.37 reais at 1:43 p.m. in Sao Paulo, They earlier traded at their highest on an intraday basis in nine years.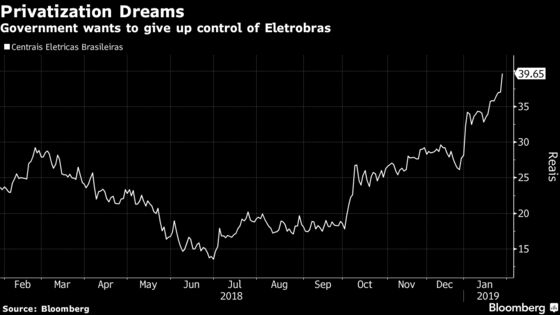 The government is considering $20 billion in privatizations in 2019, including the sale of subsidiaries of state oil giant Petroleo Brasileiro SA.
"The government should invest in security, education, health, not in state-controlled companies," Mattar said.
Plans to privatize Eletrobras stretch back to President Michel Temer's administration. During his electoral campaign in 2018, Bolsonaro said he opposed the sale of Eletrobras, saying energy generation is a strategic asset for a country, while still considering the sale of distribution and transmission assets. Bolsonaro shifted his position after winning the presidential election, saying he was analyzing a possible privatization.