Brazil's Best Currency Forecasters Say Rally Will Reverse
(Bloomberg) -- Brazil's top two currency forecasters say the real's gains will soon come to an end.
After an almost 10 percent advance this month, the biggest among the world's major currencies, the real is poised for a reversal after Brazilians vote Sunday to pick the next president, according to Commerzbank AG's You-Na Park and RBC Capital Markets's Tania Escobedo, the two analysts who topped Bloomberg's accuracy rankings this year.
With polls indicating an easy win for far-right lawmaker Jair Bolsonaro, both strategists say most of the optimism is already priced in by investors counting on him to restore the country's finances with a series of fiscal measures. But the proposals to trim pension benefits, raise taxes and privatize some state-run companies are likely to meet considerable resistance in congress, and once traders recognize the difficult road ahead there's plenty of room for the optimism to fade and the real to weaken.
"Markets want to see the perfect pension reform, the perfect privatization program, the perfect tax scheme," said New York-based Escobedo, the Latin America currency strategist who correctly called the real's slump in the first half of the year, becoming the most accurate forecaster in the first and second quarters. "There is plenty of space for disappointment there, as the lack of political experience from Bolsonaro's cabinet will probably get in the way of reforms."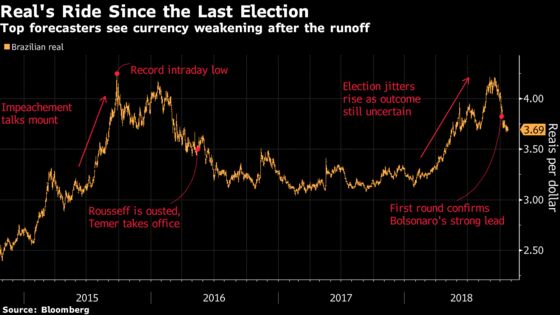 Brazilian assets have outperformed global peers since the middle of September as polls began to show Bolsonaro gaining ground among voters, and extended the advance after the former army captain posted a strong showing in the first-round vote Oct. 7.
Markets have embraced his candidacy mainly due to his economic adviser and prospective finance minister Paulo Guedes, one of the founders of Rio de Janeiro-based private equity firm Bozano Investimentos and a University of Chicago-trained economist. Their thinking is that his business acumen will make up for Bolsonaro's self-professed lack of interest in economic matters, clearing the way for policies that will shore up the country's finances.
But all the right policy proposals may not be enough if they can't make it through congress. While Bolsonaro's PSL party saw its ranks swell to 52 seats from eight in the 513-member lower house, he may struggle to get bills approved and will have to build alliances in a difficult environment. By any international standards, Brazil's congress is fragmented, unruly and brutal, with dozens of parties vying to promote their pet projects and interests.
The real is likely to weaken as this reality sets in, according to the top forecasters. After a brief rally following the runoff to about 3.6 per dollar, Commerzbank forecasts the real at 3.9 by the beginning of 2019. RBC sees an overshoot to 3.5 per dollar after the vote quickly fading, with the real back to 4.2 or even weaker after three months.
The median estimate of strategists surveyed by Bloomberg is for the real to end the year at 3.92 per dollar, a 5.6 percent drop from its current level near 3.7 per dollar.
"There will be some uncertainty in the first months of his presidency and there might be some potential for disappointment regarding fiscal consolidation and pension reform," said Park, a Frankfurt-based currency strategist who was the most accurate forecaster for the real in the third quarter. "There is still a lot of uncertainties regarding Bolsonaro."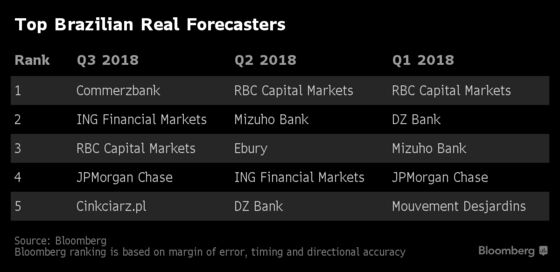 Park expects Bolsonaro to push for a watered down version of the pension overhaul proposed by President Michel Temer, a bill that would cut spending by reducing the retirement age among other changes. She predicts he won't have the political capital to push through a stronger version, as he's likely to encounter fierce opposition to some of his more controversial social positions, such as making it easier for Brazilians to own guns.
Escobedo expects Bolsonaro to send a pension bill to lawmakers in the first half of 2019.
Investors say Brazil is in desperate need of a new economic approach after years of fiscal mismanagement at the hands of the left-wing Workers' Party. A reform agenda took center stage when Temer took office in 2016, after former President Dilma Rousseff was ousted and later impeached for violating budget rules. Measures welcomed by markets include the overhaul of Brazilian labor laws and a cap to public spending aimed to trim the deficit.
The real climbed to as strong as 3.0574 per dollar in early 2017, but tumbled in the first nine months of this year as uncertainty about the election mounted. The currency reached a record-low closing level in September at 4.2071 per dollar.
Investor positioning remains negative on the real. Rabobank estimates the foreign-exchange market has a net $66 billion of bets on the dollar gaining against its Brazilian counterpart, only slightly down from a level near $70 million in early August.
A totally unexpected victory by the Workers' Party candidate Fernando Haddad would likely send markets into a tailspin, according to analysts and investors.
Haddad became the party's candidate after former President Luiz Inacio Lula da Silva -- sitting in jail after a corruption conviction -- was barred from running again. Haddad has said he's against the spending cap approved by Temer's government that was praised by markets, and is generally seen as less likely to rein in the budget deficit. If he becomes president and decides to increase spending, it could send Brazil's credit rating further into junk territory and investors would get very cautious, Park said.
"If there are policy mistakes, then there is not really a limit to a currency depreciation," she said.