Real Loses Ground as Boost From Hawkish BCB Proves Short-Lived
Brazil's real was whipsawed Thursday, initially surging on the back of a hawkish central bank decision before sliding back amid ongoing concern about the country's fiscal situation.
The currency jumped as much as 1.1%, leading gains among emerging-market peers following the central bank's decision to deliver its most aggressive interest-rate increase in nearly two decades and a promise by officials to bring back a restrictive monetary policy to tame above-target inflation. But that proved short-lived and in afternoon trading the real was down as much as 0.8%.
The central bank on Wednesday lifted the benchmark Selic by a full percentage point to 5.25%, as forecast by the vast majority of analysts surveyed by Bloomberg. Policy makers said they foresee another hike of the same magnitude next month, with the key rate eventually surpassing a neutral level that economists estimate at 6% to 7%.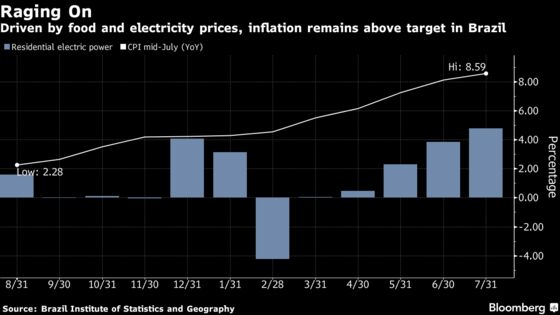 The real strengthened to around 5.11 per dollar on Thursday morning as traders priced in more aggressive rate hikes going forward before shifting back to around 5.21. The move came amid a partial recovery of the dollar more broadly in the U.S. afternoon, but the real nevertheless underperformed most of its major emerging peers and is the biggest such decliner on the day following the Philippine peso.
In addition to the central bank, traders are keeping a wary eye on the prospects for government spending and whether that might mean a bigger debt burden. The so-called Bolsa Familia is in the frame at the moment, with President Jair Bolsonaro on Wednesday confirming plans to raise payments to people in need to 300-400 reais. That compares with a current level of 192 reais, a move that would put extra pressure on next year's budget.
Sacha Tihanyi, head of emerging-market strategy at TD Securities in Toronto, also pointed to technical factors as a potential support for the dollar-real pair, which he said appeared to find buying support around its 50-day moving average.
Central bank policy makers, meanwhile, said that growing price pressures just as the services sector reopen could result in further deterioration of inflation expectations. "A quicker monetary adjustment is the most appropriate to guarantee the anchoring of inflation expectations," they wrote in a statement accompanying the decision.
Brazil's central bank, led by its President Roberto Campos Neto, has been among the most aggressive in the world, boosting rates by 325 basis points since March. But price pressures are mounting as local officials roll back the last few virus restrictions in place, forcing policy makers to make an even stronger effort to hit next year's inflation target.
What Bloomberg Economics Says

"Brazil's central bank sped up the pace of rate hikes, pledged another full-point increase in September and signaled above-neutral interest rates at the end of the cycle. The hawkish message will likely lead markets to price in an even steeper increase in rates than currently embedded in the yield curve. It adds a significant upside bias to our year-end Selic forecast of 6.5% -- now under revision."

--Adriana Dupita, Latin America economist

Read more here
Annual inflation hit 8.59% in mid-July, compared to goals of 3.75% for this year and 3.5% for next. Analysts surveyed by the bank see prices above target through 2022, even as they expect borrowing costs to rise to 7% by December.
In their statement, policy makers said cost of living increases have been persistent. Costlier services and industrial goods have fueled core inflation, and adverse weather may further pressure food and electricity bills, they wrote.
"The central bank showed it was concerned about services sector inflation," said Joao Leal, an economist at Rio Bravo Investimentos. "They affirmed that there's persistent inflation pressure that could worsen 2022 expectations. As a result, they will likely lift the Selic to 7.5% to 8% by year's end."
The spread of the delta coronavirus strain has added risk to the global economic recovery, bank board members wrote, adding that the outlook for emerging markets remains benign given monetary and fiscal stimulus.
In particular, Brazil's recent economic indicators have evolved adequately, they said. As a result, the central bank stands behind growth forecasts which foresee "a robust economic recovery during the second semester."
While the virus is still killing almost 1,000 people in Brazil a day, that's down from a peak of more than 4,200. Hospital occupancy rates have plummeted, with intensive-care units across the nation about 60% to 65% full, down from more than 95% earlier this year.
In recent months, policy makers have been criticized for falling behind the curve as inflation surged in Latin America's largest economy. Wednesday's decision will help boost their credibility, according to David Beker, head of Brazil for Bank of America Securities Inc.
"Going above neutral will help re-anchor inflation expectations for 2022," Beker said. "It was a hawkish statement, but an expected one as well. They did what the market expected they would do."