Brazil Health Minister Candidate Bows Out Amid Threats, Insults
A potential candidate to replace Brazil's embattled health minister passed on the job after suffering death threats and insults on social media when it became clear that her views on how to fight the pandemic differed from those of President Jair Bolsonaro.
Ludhmila Abrahao Hajjar, a cardiologist who treated incumbent Health Minister Eduardo Pazuello when he fell sick with Covid-19 last year, met with Bolsonaro over the weekend and declined the offer he had extended on Monday. Her decision followed a series of attacks against her -- both on social media and at the hotel where she was spending the night, where several people allegedly tried to break into her room.
"I reported those threats to the president and he said they're part of the job," she said in an interview with GloboNews TV. "I was naive, I thought that if the president had called me to talk, he would be willing to change."
Bolsonaro has been under intense pressure to find solutions for the country's slow immunization campaign and an explosion of the pandemic that's claiming 2,000 lives a day. Yet it's the president himself who often dismisses the importance of vaccines, promotes gatherings of supporters without masks, touts chloroquine and other unproven medications against the virus, and attacks governors who are imposing lockdowns to slow the spread of the pandemic.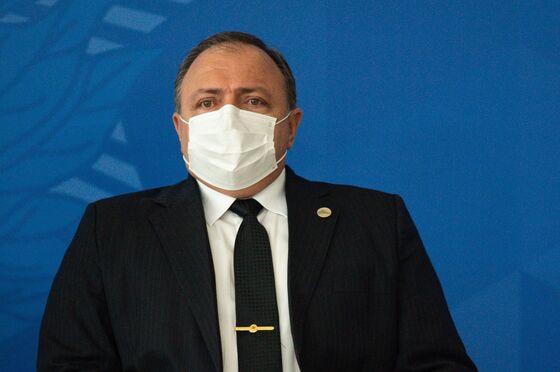 The President spent Saturday in meetings with Lower House Speaker Arthur Lira and a handful of ministers to try to find a replacement for Pazuello, a general who has been on the job since May, according to four people with close knowledge of the matter. Bolsonaro is now talking to another cardiologist, Marcelo Queiroga, who could be invited for the position, according to O Globo newspaper.
Hajjar told Globonews the attacks against her -- which included having her phone leaked online and death threats -- were not the reason she declined the offer. Talks didn't evolve with Bolsonaro because of a difference of opinions, she said.
"My plans follow a line that's different from the current government," she said. "We spend a lot of time discussing if governors are right or wrong. Governors are desperate, people are dying. We talk about chloroquine, azithromycin, ivermectine -- things that are in the past, science has already given an answer for this. What we need is a protocol for treatment."
Over the weekend, the health ministry denied reports Pazuello was stepping down, saying he would hold the post at "the present moment."
On Friday, Brazil passed India in the number of infections, retaking the post of the worst-hit country in the world after the U.S. The surge in cases came after year-end gatherings and clandestine Carnival parties, as well as the emergence of a more contagious variant of the virus first detected in the city of Manaus.
As the latest wave worsens, Brazilians face conflicting messages from state and federal officials. While governors impose stricter measures to try to slow down the spread and avoid a collapse in the health system in their states, Bolsonaro has insisted that these social isolation measures are "overdone" and that the economic impact is more devastating than the pandemic itself.
The government is also being criticized for its sluggish vaccine rollout. The country has been slow to cut deals with Pfizer Inc., Johnson & Johnson's Janssen and Moderna Inc., and kicked off its mass immunization campaign with doses that are not enough even to cover priority groups.
So far, a total of 13.5 million Covid-19 vaccine doses have been administered so far, according to data collected by Bloomberg News. Cities including Rio de Janeiro have halted vaccinations on more than one occasion as shots ran out.
Brazil needs to make up for lost time with vaccines, and needs to set up a strategy to avoid further loss of life, which includes restrictive measures backed by the health ministry and opening up more hospital beds.
"We need a national union and an improvement in international relations to buy vaccines," Hajjar added. "We lost a lot of time already."