Brazil's Hawkish Turn Sends Real Surging Near One-Year High
(Bloomberg) -- Brazil's real gained the most among emerging-market currencies after the central bank raised its key interest rate by 75 basis points and opened the door to even bigger increases as inflation forecasts surge.
The real strengthened at much as 0.9% against the dollar, approaching a year-long high reached Wednesday, while a gauge of developing-world currencies lost 0.9%. Meantime, swaps contracts maturing in January 2022 leaped 14 basis points on the prospect of tighter monetary policy.
The central bank on Wednesday lifted the Selic to 4.25%, as forecast by all analysts surveyed by Bloomberg. In a statement, policy makers dropped pledges for a "partial" removal of stimulus, saying instead that borrowing costs will rise to the so-called neutral level, neither stimulative nor restrictive for the economy.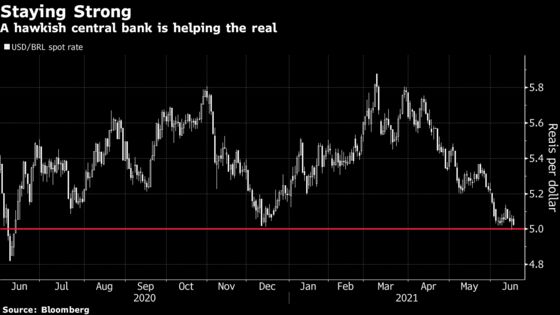 "The restoration of carry, hawkish BCB stance and reduced near-term fiscal concerns support BRL," Barclays' Roberto Secemski and Juan Prada wrote in a note to clients. "BRL has outperformed on the declining near-term risks."
READ: Brazil Swaps, Real Rise as Central Bank Mulls Bigger Rate Hikes
The central bank sees another 75 basis-point increase at its next meeting in August and doesn't rule out even bigger rate increases.
"A deterioration of inflation expectations for the relevant horizon may require a quicker reduction of the monetary stimulus," policymakers wrote in the statement.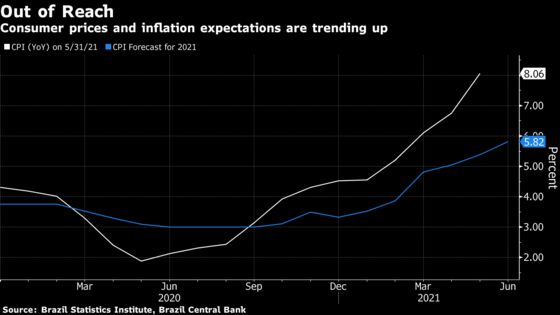 Policy makers led by Roberto Campos Neto are hiking rates aggressively as the pace of consumer price increases nears a five-year high in Latin America's largest economy. They are battling inflationary pressures from soaring commodity costs and also higher electricity bills brought on by drought. Meanwhile, emergency spending amid the pandemic is stoking demand.
What Our Economist Says

"There were several hawkish hints in the statement -- the full normalization, the assessment of economic conditions, the possibility of a 'quicker' reduction in stimulus -- and this will fuel market bets on faster, bolder rate hikes. We see the Selic at 6.5% by year-end, up from our previous estimate of 5.5%."

--Adriana Dupita, Latin America

Read more here
Brazil has now raised its interest rate this year more than other emerging markets including Turkey and Russia. The decision contrasts with that of the U.S. Federal Reserve, which hours earlier held interest rates near zero, signaling two increases by the end of 2023.
In its statement, the bank board wrote that consumer price increases have been more persistent than previously thought, especially in industrial goods. Additionally, higher electricity costs will keep inflation under pressure in the short-term.
Brazil's annual inflation sped up to 8.06% in May, above economist forecasts and also more than double this year's goal of 3.75%. Analysts surveyed by the central bank see consumer prices rising above target through 2022.
On growth, policy makers said recent activity indicators have been stronger than expected despite a deadly second wave of the coronavirus. Risks to Brazil's economic recovery were "significantly reduced," they added.
"The Copom changed significantly the description of the overall state of the economy, in line with recent data," Cassiana Fernandez, an economist at JPMorgan Chase & Co, wrote in a research note. "The board recognized that economic growth is evolving more favorably than expected."
The bank's hawkish statement will likely provide greater support for the real, which has strengthened by 6% since the prior rate-setting meeting in May. It broke the 5-per-dollar threshold on Wednesday before the Fed poured cold water on its rally. A stronger currency eases pressures on wholesale prices and makes imports less expensive.
All in all, board members' change in guidance shows a tougher stance on consumer prices, according to Alberto Ramos, chief Latin America economist at Goldman Sachs Group Inc. "They are ready to raise the Selic to any level needed to make sure inflation projections stay in line with its goals."