Investors Embrace Brazil Strongman to Thwart Leftist Revival
(Bloomberg) -- Brazil investors have a clear favorite in Sunday's presidential election: the right-wing strongman without much of an economic plan.
Stocks, the currency and bonds surged to multiweek highs in the past few days as new polls showed former army captain Jair Bolsonaro gaining support. The jump in popularity probably won't be enough for him to win office outright in the first-round vote, but for the first time these surveys show him with a fair chance of coming out ahead in the second round later this month.
Traders have coalesced around his candidacy not so much because they're enamored with his policies -- he's vague about plans for the budget, and his derogatory comments about gays, women and black people are seen as distasteful at best -- but because he represents the best chance of preventing the Workers' Party from reclaiming power. Investors are desperate for an alternative after years of economic mismanagement under the left-wing party, whose candidate Fernando Haddad is polling second. With none of the more established, reform-minded names garnering much support, financial players turned to Bolsonaro as the next best thing.
"Bolsonaro is better for Brazil," said Ray Zucaro, the chief investment officer at RVX Asset Management in Miami. "Is he a nice guy? No. But Haddad and the Workers' Party oversaw the worst economic drop in Brazil's history; a return to their ways is the wrong way."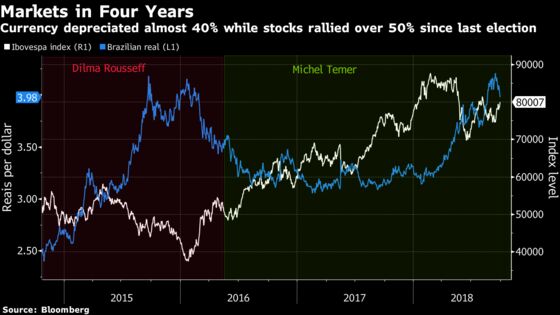 Brazil assets outperformed all major peers this week as Bolsonaro gained in polls, reaching as much as 35 percent support in the Datafolha survey released late Thursday, while Haddad stalled after several strong advances. Traders cheered by pushing the currency and the benchmark stock index up at least 4 percent. Datafolha showed Haddad's support rising within the margin of error, to 22 percent.
The rally comes on the back of what has been a volatile time for Brazilian markets. Local assets swung wildly amid various court rulings and appeals tied to former President Luiz Inacio Lula da Silva's bid to run for office again. (He is in jail after being convicted of corruption.) The presidential race was thrown into chaos again last month when Bolsonaro was stabbed at a campaign rally. He's now recovering at home.
The turmoil helped send the real to a record-low closing level in September, only for it to rebound 8.6 percent since then, making it the best performing currency in the world in the span. While foreign investors have been piling back into local stocks, putting the benchmark index on the edge of a bull market, exchange-traded funds haven't recovered from heavy outflows seen earlier this year.
"The political landscape remains critically important in influencing Brazilian asset prices," said Angus Bell, a portfolio manager at Goldman Sachs Asset Management in London who is avoiding Brazil's sovereign dollar bonds. "The key factor is the ability for the country to adjust its fiscal profile onto a more sustainable trajectory."
If no candidate wins a majority in the first-round vote, the top two will move to a runoff Oct. 28.
Bolsonaro, known more for his divisive statements than his political accomplishments, hadn't talked much about economics for most of the campaign, deferring all questions to his would-be finance minister, Paulo Guedes. The adviser wants to privatize "everything" to raise some 1 trillion reais ($258 billion). Though Guedes is a market darling, there have been questions about how solid his partnership with his candidate is, given that many of his proposals go against what Bolsonaro has voted for in his 30 years in Congress. It's also unclear how he would get lawmakers' backing for the measures.
In recent weeks, Guedes canceled public appearances and Bolsonaro stepped in -- from his hospital bed -- after a "misunderstanding" over a statement Guedes made on the creation of a new tax. Bolsonaro has been more vocal about his economic plans of late, saying recently that he won't privatize any of the large state-run companies he sees as "strategic."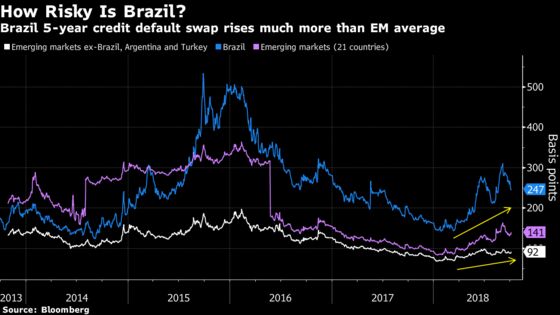 The unknowns about Bolsonaro and Haddad have split investors. While some including BlackRock Inc. and Santander's Ana Botin have made bullish comments, mostly on the assumption that whoever wins will have no choice but to tackle the fiscal issues, UBS Wealth Management to Aberdeen Asset Management Plc and HSBC Global Asset Management have said it's too risky to make a bet.
"Brazilian politics are very chaotic," said James Syme, a London-based money manager at JO Hambro Capital Management, which oversees more than $40 billion in assets and is underweight on the country's assets. "Brazil very much needs a public consensus on undertaking fiscal reforms, and it is not clear that is going to happen."
Bolsonaro's rise comes on the back of growing anger and frustration after years of recession, corruption scandals and rising violence. Much of the blame is directed at the Workers' Party, which ruled the country for 13 years. While markets rallied during Lula's tenure, backed by a surge in commodity prices, Dilma Rousseff was far less successful. Her 2016 impeachment came with unemployment at the highest in more than a decade and as a wide-ranging corruption investigation revealed staggering amounts of graft at the highest levels of government.
Haddad has pledged to restore several policies that some analysts say contributed to the economic crisis seen under Rousseff -- using public banks to lend money cheaply, implementing capital controls and relying on public works to boost employment. The most pessimistic investors see this tanking Brazil assets, sending the currency and stocks down at least 30 percent. Others say it's unlikely the more controversial ideas will come to pass.
"It's too pessimistic to assume that Haddad's campaign rhetoric will be reflected in the government," said Peter Taylor, the head of Brazilian equities at Aberdeen. He's neutral on the country.
Just like some investors think an eventual Haddad government wouldn't be as bad as it looks on paper, a lot of them say a Bolsonaro administration likely wouldn't be as good as markets are hoping for either. A lack of experience and few allies weigh against the former army captain, explaining the neutral approach some large investors are taking to Brazil.
"Markets will be more comfortable with Bolsonaro," said Jorge Mariscal, the chief investment officer for emerging markets at UBS Wealth Management in New York. "But, having said that, the challenges for both parties are significant in terms of social security and pension reform."