Brazil Speaker Backs Dividend Tax to Ease Corporate Burden
(Bloomberg) -- Brazil's Lower House Speaker Arthur Lira threw his weight behind the main points of a government-proposed tax overhaul, saying the country needs to reduce the burden on companies while increasing the contribution from those who earn more.
Lira said on Wednesday he is working to reduce corporate taxes by at least 10 percentage points, while also supporting Economy Minister Paulo Guedes's proposal to introduce a 20% levy on dividends.
"We are going to correct distortions while avoiding the government eagerness to collect taxes during the reform," he said in an interview at his official residence in Brasilia. "We'll have the possible reform, not the ideal one."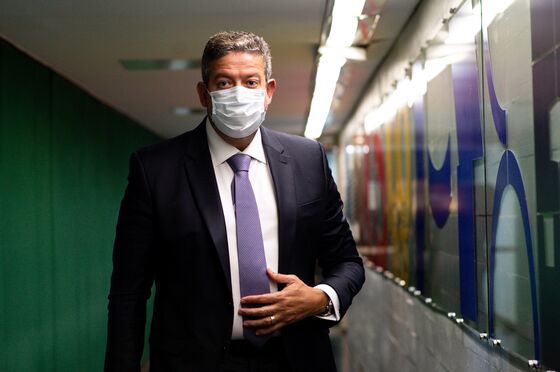 Guedes's plan to overhaul Brazil's complex tax system is facing strong push back from investors who dislike the idea of a 20% tax on dividends, currently exempt in the country.
In a strategy to garner support for the bill, Guedes said he is willing to reduce corporate taxes faster than originally planned: Instead of cutting their rates by 5 percentage points in two years, he could slash 10 percentage points off them already in the first year of the reform.
Guedes also insists on taxation of dividends, saying their exemption only benefits the richest. "Nobody needs to be ashamed of being rich, but they need to be ashamed of not paying dividend tax," the minister said last week, adding that only Brazil and Lithuania have such a "distortion."
Yet Guedes is likely to have a hard time passing the reform he envisions through congress. In order to reduce corporate taxes by 10 percentage points at once, the government would need to cut 40 billion reais in exemptions given to powerful economic conglomerates such as the chemical industry.
President Jair Bolsonaro's administration, facing a political crisis involving alleged irregularities in the purchase of vaccines ahead of next year's elections, will likely have less power to fight lobbies in congress.
Lira said scrapping such exemptions is a possibility, but pointed out that the matter needs further discussion. There could be other ways to make up for a reduction in corporate taxes, he added.
"We will vote on the bill when it is ready, without steamrolling," Lira said. "The idea of the reform is to simplify, reduce bureaucracy, and not to increase the tax burden."
The bill could be voted in the lower house by the first half of August, he said.
Income tax reform is one of five chapters of a larger overhaul of Brazil's tax code that the government is rushing to approve before next year's presidential election. The first part of the proposal, which dealt with the unification of levies on consumption, has yet to advance since being delivered to congress one year ago.
The next steps include a plan to turn a tax on industrialized goods known as IPI into a selective levy that would only be imposed on products with a negative impact on public health or the environment. The reform also contemplates a new debt renegotiation program to help companies and individual taxpayers.