Brazil Parties Push to Reverse Fiscal Rule Change in New Vote
(Bloomberg) -- Brazilian parties that are part of the opposition to Jair Bolsonaro's government are putting pressure on their congressmen to kill a bill that loosens the country's spending cap.
The proposal that helps fund Bolsonaro's new signature social program, providing cash handouts of 400 reais ($72) to poor families in the run-up to next year's elections, passed a first-round vote early Thursday with 312 votes, just four over the 308 needed. Another 144 lawmakers voted against the bill. 
Because the bill changes the constitution, it still needs to go through a second vote in the lower house, which was scheduled for next Tuesday. If it's approved, it will then be sent to the Senate, where it will undergo a similar process.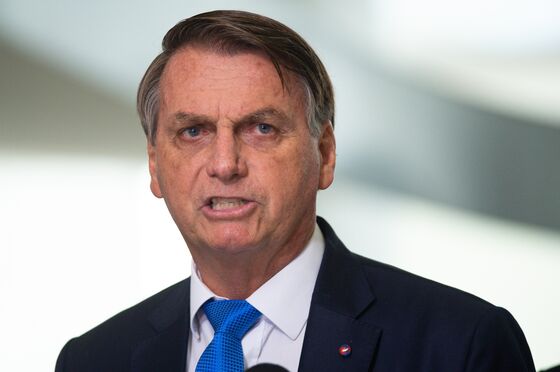 The proposal had the support of lawmakers from parties that usually oppose the government, including PDT, PSB and PSDB, which gave 47 of their 86 votes in favor of the bill. The move angered party leaders. Presidential hopeful Ciro Gomes suspended his pre-candidacy until PDT reassessed its position, he said on Twitter. The heads of PSB and PSDB said they'll work to reverse the approval in a second round vote in the lower house or defeat the bill in the Senate.
Concern the parties may push their representatives to pull backing for the proposal added pressure on Brazilian markets. The benchmark Ibovespa index and the real were among the worst performing assets in the world Thursday. 
Traders have been dumping Brazilian assets on concern the PEC dos Precatorios, as the bill is known, undermines the spending cap rule that's seen as key to the country's fiscal stability. Yet prospects of what the government may do if the bill doesn't pass -- which officials including Bolsonaro have referred to as "plan B" but failed to give details on -- are now weighing on investors' minds. 
"The concern is the uncertainty about the fiscal impact, given no one knows exactly what this 'plan B' would entail," said Gustavo Brotto, the chief investment officer of Greenbay Investimentos. 
Brazil Politics: Bolsonaro Has a 'Plan B' for Social Program
Government whip Ricardo Barros said the government will get even more votes in a second round. House Speaker Arthur Lira is also confident the bill will pass in a second round, a person familiar with his thinking said. 
Close aides are advising the president to extend the pandemic handouts through a provisional decree in case the lower house fails to approve the bill, one person with direct knowledge of the matter said last week. Meanwhile, the aid currently being provided to the poorest is running out.