Brazil Gun Maker 140%-Rally Looks as Uncertain as Election Race
(Bloomberg) -- Shares of Brazilian firearm manufacturer Forjas Taurus SA have more than doubled in value this year on bets the pro-guns candidate Jair Bolsonaro will win the October presidential election. With that victory uncertain and company fundamentals weak, investors are taking a closer look.
Bolsonaro has pledged to relax gun control laws, provide more firearms to police and reward them the more criminals they kill. Bolsonaro and his supporters regularly flash a finger gun -- even from the hospital, where he has been recovering after being stabbed at a rally earlier this month.
The onetime Army captain has been ahead in opinion polls for months and is set to face former Sao Paulo mayor Fernando Haddad in a likely runoff vote. Yet the lead he had over Haddad in a likely second round vote has vanished in recent days, and most polls now show them in a dead heat.
"If Bolsonaro isn't elected, Forjas Taurus' shares should give back almost all of the recent gains" said Glauco Legat, the chief analyst at brokerage Spinelli.
Taurus didn't reply when asked to comment for this story.
Even if Bolsonaro does win, the company still has a massive debt load to deal with, according to Wagner Salaverry, a managing partner at Quantitas Gestao de Recursos. Forjas Taurus' total debt increased to a record 798 million reais ($197 million) as of last year, while cash and equivalents dwindled to just 9.5 million reais.
"The stock seems too risky," said Salaverry.
The company has been plagued by legal issues over allegedly defective guns and accusations of irregular sales to the Djibouti government. Forjas Taurus has posted net losses every year since 2013, which grew to 286 million reais in losses last year, its worst ever. The stock had been trading at around 1 or 2 reais since 2015, from as high as 26.84 reais just two years earlier.
A Bolsonaro win would improve the outlook for the Sao Leopoldo-based company by boosting sales. But the "icing on the cake" would be a change in gun legislation, said Legat.
Legislators are debating whether to overturn the so-called "disarmament statute," a law that severely restricts civilian ownership and use of guns. The idea runs counter to recent calls in the U.S. for greater gun control, as well as the global trend towards restricting access to firearms seen in Australia, the U.K, Canada, New Zealand and Germany.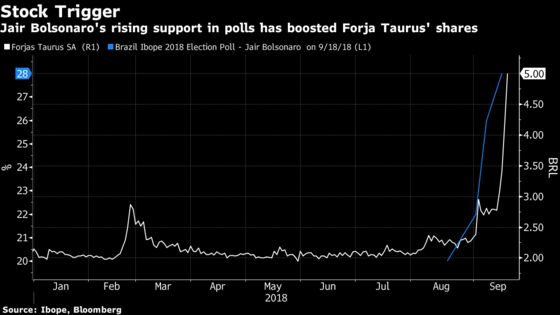 Bolsonaro's pro-gun message has resonated with a fair share of Brazilians, disillusioned with rising crime and corruption. A record 63,880 people were killed last year, according a report from non-profit Brazil Public Security Forum, or about 175 people a day.