Brazil Election Optimism Defies Global Slump on Eve of Vote
(Bloomberg) -- Brazilian markets are going into the Sunday election all-in on Jair Bolsonaro.
Both the currency and stocks rallied in the last trading day before the vote, defying a slump in global assets. The Brazilian real gained 1.7 percent to the strongest since May and lead global currencies, while the benchmark Ibovespa index rose 2 percent to 85,719.88 in Sao Paulo.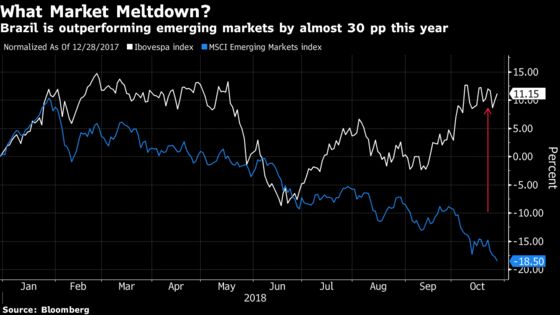 Brazilian assets have been outperforming global markets lately as investors price in a victory by conservative Bolsonaro on Sunday. They expect the controversial former army captain to move forward with overhauls to the nation's pension and tax systems, seen as key to fixing Brazil's deteriorating fiscal accounts. Much of the vote of confidence markets are placing on Bolsonaro hinges on his choice of economic adviser: University of Chicago-trained economist Paulo Guedes, who has said he wants to privatize everything.
"The election bets are being placed," said Greg Lesko, a money manager at Deltec Asset Management in New York. Lesko sees a "decent chance" of the pension reform being approved in Congress in its current 'watered down state' under a Bolsonaro government.
Polls in the last few days have shown Bolsonaro slipping slightly, but investors are unfazed as his lead over opponent Fernando Haddad remains in the double digits, a margin seen as too hard to overcome for the Workers' Party candidate.
Three more opinion polls are expected for Saturday, and the vote happens Sunday.