Brazil Economists See Benchmark Rate Above 10% by End of 2022
(Bloomberg) -- Brazil analysts for the first time estimated that the country's benchmark interest rate will end 2022 in the double digits, as concerns about deteriorating public finances forced the central bank to accelerate its monetary tightening campaign last week.  
Economists anticipate the Selic rate will reach 10.25% in late-2022, compared with their previous 9.5% forecast, according a weekly survey published by the central bank on Monday. They also see the key rate at 9.25% late this year, in line with the central bank's guidance of a second consecutive hike of 150 basis points in December. The Selic currently stands at 7.75%.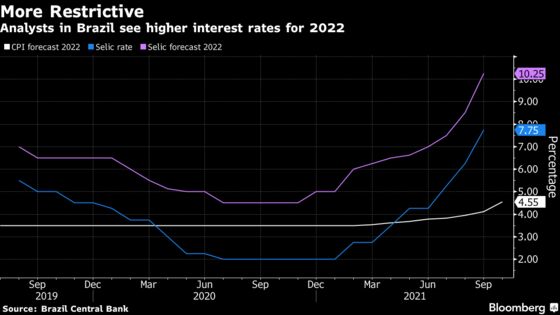 Brazil's congress is expected to vote this week on a constitutional amendment that would make room in the budget to fund President Jair Bolsonaro's signature social program, providing cash handouts of 400 reais ($70.86) to poor families in the run-up to next year's elections. News of the additional spending immediately rattled markets. The real was among the worst-performing emerging markets currencies last week, down 1.30%, while the local stock exchange posted losses for another week. 
Brazil's central bank was already aggressively raising rates to rein in inflation that is running at an annual pace of more than 10%. They justified the larger rate increase, the biggest in two decades, by saying in a post-decision statement that "questions regarding the fiscal framework increased the risk of deanchoring inflation expectations." Minutes of the policy meeting will be released on Wednesday. 
Analysts also raised their inflation forecast to 9.17% in 2021 and 4.55% in 2022. Brazil's central bank targets inflation at 3.75% this year, 3.5% in 2022 and 3.25% in 2023. 
Analysts surveyed by the central bank revised down their growth forecasts and now expect Latin America's largest economy to expand just 1.2% next year and 4.94% in 2021. 
JPMorgan Chase & Co. is more pessimistic, however, warning that Brazil may miss out on a global trend of faster growth due to rising political uncertainty, with the economy flatlining next year despite a projected 0.4% statistical carryover from 2021.   
"The renewed fiscal stimulus announced by the government should to some extent buffer the drag of rising real rates on economic growth in the short term, but tighter financial conditions and most importantly rising political uncertainty in our calculations more than compensate for this effect," Cassiana Fernandez, an economist with JPMorgan, wrote in a research note.