Brazil's Inflation Surprise Fans Bets of Bigger Key Rate Hike
(Bloomberg) -- Brazil's faster-than-expected inflation in early October is adding to pressure for a dramatic increase in the pace of interest rate hikes at tomorrow's central bank policy decision. 
Consumer prices jumped 1.2% from the month prior, more than all estimates in a Bloomberg survey, the national statistics institute reported on Tuesday. It was the biggest increase for mid-October since 1995. Annual inflation accelerated to 10.34%.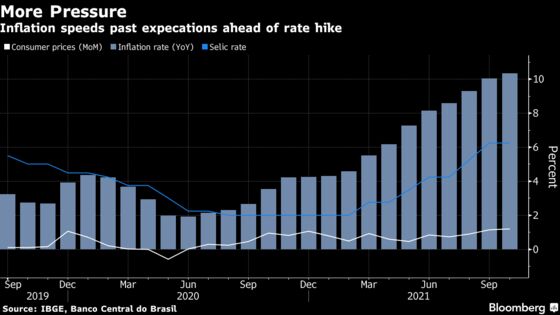 Transportation and housing costs, which increased 2.06% and 1.87% respectively, were the main contributors to the mid-October price surge, the statistics agency said. 
The negative print comes as policy makers gather for a two-day meeting to set the key interest rate. Already Brazil's central bank is facing growing pressure to clamp down harder on inflation after President Jair Bolsonaro said he would expand cash-transfer programs to the poor before next year's elections. 
What Bloomberg Economics Says

"The inflation surprise is just the last in a series of predicaments Brazil's central bank will have to address in this rate decision. Taken together with the proposed change in fiscal rules and the rise in long-term inflation expectations, it makes it even harder for the BCB to abide by its own guidance and raise the policy rate by only 100 bps to 7.25% at this meeting."

-- Adriana Dupita, Latin America economist

Click here to read the full report.  
Swap rates on the contract due in January 2023, which indicate investor expectations for the Selic at end-2022, surged as much as 61.5 basis points in morning trading. It was the most-traded in Sao Paulo.
This year, policy makers have already lifted rates by 425 basis points to cool the effects of higher electricity and food costs as the economy rebounds. For weeks, central bank chief Roberto Campos Neto had tried to soothe investor fears over double-digit inflation, assuring that prices likely peaked in September. 
Policy makers previously signaled that a full-percentage point rate rise was on tap this week as it works to bring consumer prices to the 2022 target of 3.5%. But last week's announcement that the government would seek to circumvent a constitutionally-mandated budget limit renewed bets of faster inflation. 
Put together, traders now are betting on a rate hike of at least 175 basis points on Wednesday. The implied probability of an increase of over 150 basis points tomorrow is higher than 30%, according to options traded at the B3 local stock exchange. 
"The inflationary trend remains unfavorable and demands a more robust monetary response," said Daniel Xavier, an economist at Banco ABC Brasil.
Expectations of higher borrowing costs are now prompting many analysts to reduce their growth expectations for next year. Meanwhile, job creation remains sluggish with the unemployment rate hovering above 13%.
Economists expect Brazil's consumer prices to end next year at 4.40%, according to a survey by the central bank published Monday. Analysts also raised their 2023 forecasts above that year's target of 3.25%.