Brazil's Lower House Approves Bill That Eases Austerity Law
(Bloomberg) -- Brazil's lower house of congress passed a controversial proposal that bends the country's fiscal rules to finance a new social program President Jair Bolsonaro is launching ahead of his 2022 re-election campaign. 
The so-called precatorios bill was approved late on Tuesday by 323-172 votes, a wider margin of support than it had received just a week ago. It now needs the backing of three-fifths of senators, also in two rounds of voting. Senate President Rodrigo Pacheco still has to decide whether the proposal will be analyzed by the constitution and justice committee before the floor vote.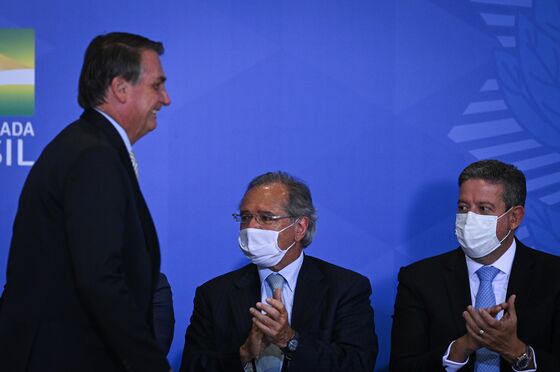 Bolsonaro is running against the clock to approve the constitutional amendment by the second week of November in order to boost, still this year, handouts paid by his flagship Auxilio Brasil program. The president, whose popularity had dropped to all-time lows, has promised to pay 400 reais ($72) per month to about 17 million poor families through the end of next year.  
Investors are closely watching the vote as they worry about Brazil's deteriorating fiscal outlook. While the proposal to ease fiscal austerity initially triggered a severe market sell-off, they now fear the alternative would be even worse: Financing Bolsonaro's program through additional Covid cash handouts that wouldn't be subject to the so-called spending cap, a rule that limits the growth of public expenditures to the previous year's inflation rate.
Yields on Brazil's benchmark 10-year dollar bonds rose for the first in seven, climbing one basis point to 4.56% as of 6:54 a.m. in New York. 
Edwin Gutierrez, the London-based head of emerging market sovereign debt at Aberdeen Asset Management PLC said there was a sense of relief for investors to be getting past this issue. Aberdeen holds Brazilian real debt.
"It's not great news overall, but at least we can stop focusing on it assuming that the bill makes it through the Senate," he said.
Lower house Speaker Arthur Lira, an ally of Bolsonaro, managed to get to bill approved despite a top court ruling that reduced his power in congress. 
The injunction, issued by Supreme Court Justice Rosa Weber last week and confirmed by a majority of justices on Tuesday, suspended transfers of federal funds to works sponsored by lawmakers in their home states, saying the mechanism lacks transparency. 
Control over the distribution of such funds, which amounted to 1 billion reais in the days before the bill's first-round vote, gave the house speaker great bargaining power when negotiating the support of fellow lawmakers.
What are precatorios and how can they make room for a new social program?
Precatorios are debt instruments issued by the courts when the government loses, and can no longer appeal, a case requiring financial compensation
The proposal being discussed in congress sets an annual limit to the payment of such legal claims, freeing up 92 billion reais in next year's budget, according to economy ministry's calculations
About 50 billion reais of that amount would be used to finance Bolsonaro's new social program