Brazil Coffee Exports Tumble, Sparking Concerns About Demand
(Bloomberg) -- Brazil, the world's top coffee producer, registered the lowest monthly exports in almost two years, stoking concerns that global demand may ebb as economies reel from the pandemic.
Green-coffee shipments in May fell to 2.68 million bags, down 23% from a year earlier, to the lowest since July 2018, according to data from export group CeCafe.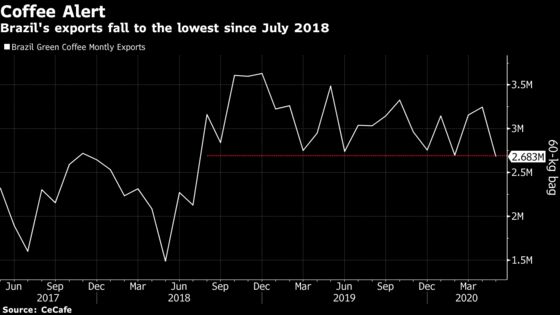 While the drop in shipments reflects lower output last year, when crops entered the lower yielding half of a biennial cycle, it may also reflect trader caution over demand.
"After asking to push shipments forward in the beginning of the pandemic outbreak amid logistics concerns, importers have asked to postpone deliveries," Nelson Salvaterra, a broker at Rio de Janeiro-based Coffee New Selection, said in a text message. "They are more cautious in building up inventories, waiting for the economy to reopen and then have a clearer idea on the demand."
Arabica coffee for September delivery fell 1.3% to 98.4 cents a pound at 11:56 a.m. on ICE Futures U.S. in New York. The most-active contract has slumped 24% this year.
Global demand has been smaller, said Carlos Alberto Fernandes Santana, director at Empresa Interagricola SA, a unit of Ecom Agroindustrial Corp. June shipments probably will affirm the drop, he said.
A bag weighs 60 kilograms, or 132 pounds.
Read more
Colombia Coffee Harvest Quickens After Weather Delays: Growers
Vietnam's 2020-21 Coffee Output May Fall 3.5%, USDA FAS Says