Brazil Banks Dangle Lower Rates in Campaign Against Higher Taxes
(Bloomberg) -- Brazilian banks offered to cut interest rates to its clients in an effort to appease Congress as it considers higher taxes for the sector and relief to families through caps to borrowing costs.
The country's banking lobby, known as Febraban, sent letters to Senate President Davi Alcolumbre and lower house Speaker Rodrigo Maia saying its members commit to "substantially lower rates" on credit card debts, overdraft protection and payroll loans while maintaining their individual "pricing policy in a competitive environment." The proposal seeks to assist 30 million people amid the current economic crisis, according to the letter, which was viewed by Bloomberg News.
Banking executives are worried about a number of proposals, currently in the Senate, that would more than double taxes on their profits and cap the interest rate that they can charge. The bills are an attempt by lawmakers to provide financial relief to Brazilians while securing new sources of government income amid a historic recession triggered by the coronavirus pandemic.
In a statement to Bloomberg News, the bank's federation said its offer is not intended to appease lawmakers but rather to help those who find themselves in a fragile financial situation.
Febraban only expressed concern about legislative proposals that, if approved, "may produce negative economic effects and legal insecurity with huge potential to damage the country's image, its business environment and investor appetite," the association that's formed by Brazil's largest banks said in the statement.
In an interview last week, Febraban President Isaac Sidney Menezes said the bills being discussed in Congress would trigger unwanted side effects and end up reducing the availability of credit.
"The proposals aggravate the economic situation in the midst of a pandemic by increasing the cost of credit and the default rate and by reducing loans," Menezes, who is a former central bank director, said in an interview. "We are also against setting a cap on rates, as it would hurt competition."
Read More: Brazil Cuts Growth Forecast Ahead of Economic Bloodbath
One of the proposals under discussion calls for capping interest on credit cards and overdrafts to 20% a year. Another increases taxes on bank profits to 50% from 20%. Senators delayed a vote on the bills for next week. If approved, they would be sent to the lower house for consideration.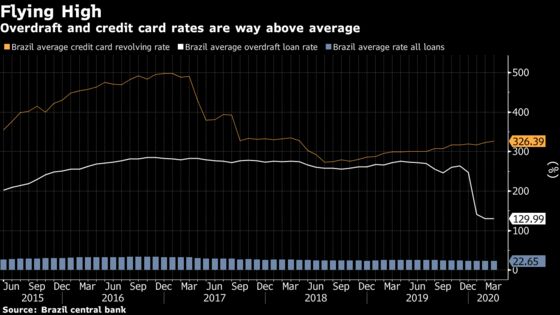 Currently, emergency credit lines including overdrafts have rates that range between 150% to 300% a year, according to central bank data. If passed, the legislation stands to land a blow to some of Brazil's leading banks, according to UBS analyst Thiago Batista.
"A back-of-envelope calculation points to a negative impact of more than 19% of top line for the banks we cover. Itau would be the bank more affected as they have a higher market share in the credit card business," Batista wrote in a report.
He added that caps on interest rates of that magnitude would have "negative impact on competition and even in the credit availability in the long term."