Bradesco Set to Shine as Brazil's Banks Post Latest Earnings
(Bloomberg) -- Banco Bradesco SA analysts can't wait for the upcoming earnings.
The second-biggest bank in Latin America by market value after Itau Unibanco Holding SA is expected to benefit from a pick-up in lending in Brazil, standing out from Itau and other rivals such Banco do Brasil SA, analysts say.
"Bradesco will likely lead the class, with a solid 4Q18 and upbeat 2019 guidance," Itau BBA analysts led by Thiago Bovolenta Batista wrote in a Jan. 20 report. Itau BBA sees Bradesco's recurring net income expanding by 15.8 percent on an annual basis, and recurring return on average equity reaching 19.2 percent, due to stronger loan revenues and stable credit risk. Bradesco's earnings are scheduled for release on January 31, one day after Banco Santander SA's Brazilian unit kicks off earnings season for the nation's lenders.
Brazilian banks are benefiting from borrowers' increased demand while loan losses decline. In November, Brazil's bank lending rose to 3.2 trillion reais while the business loan default rate fell to 3 percent, according to a lending report released by the central bank.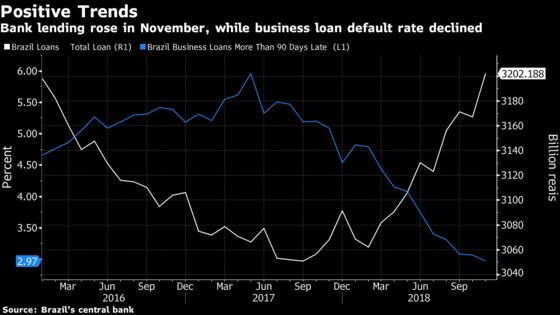 A sharp fall in provision charges will also help earnings, Santander Brasil's analysts said. "Bradesco could be the main highlight for the quarter, given positive expectations of asset-quality improvement," Henrique Navarro, Olavo Arthuzo and Isabella Nasuno wrote in report from Jan. 11.
While Brazilian banks should post double-digit bottom-line growth in 2019, Safra analysts Luis Azevedo and Silvio Doria see the sector's multiples already reflecting this brighter outlook. Citigroup also believes that valuations aren't cheap, but says Brazil's economic reforms could provide additional upside.
"Positive news on Congress leadership and on essential reforms could provide upside risks for 2020 onwards and also lower discount rates," Citigroup analysts Jorg Friedemann and Gabriel Nobrega wrote in a report from Jan. 9.
4Q adjusted net income est. 5.53 billion reais (average of 5 estimates)
4Q return on equity est. 19.4% (average of 3 estimates)
BBDC4 has 15 buys, 3 holds and 1 sell; avg PT 41.28 reais
Net income beat estimates in 5 of past 8 quarters