Brace for Costlier Mortgages in Australia, Sovereign Fund Warns
(Bloomberg) -- Australian homeowners may have to prepare for more expensive mortgages even as the nation's central bank keeps official borrowing costs at a historic low.
Peter Costello, chairman of the A$146 billion ($107 billion) Future Fund and a former Treasurer of Australia, says climbing funding costs offshore will spur local lenders to pass on some of those expenses to borrowers. This will happen despite tepid inflation encouraging the Reserve Bank of Australia to keep the official cash rate at a record-low of 1.5 percent. Westpac Banking Corp. became the first major Australian bank to raise interest rates Wednesday because of higher funding costs.
"Australian banks borrow a lot of money offshore and in particular in the U.S., and U.S. rates are rising, so I think they'll be looking to increase rates," Costello said on a media call Wednesday. "It's important that monetary policy in Australia is still principally mediated by the Reserve Bank of Australia, but given the international pressures, yes, I think they'll be looking at out-of-cycle rate increases."
Costello's views come as Australia's bank profits face increasing pressure from a slowing housing market, rising overseas government bond yields that are pushing up debt funding costs and heightened competition. The nation's biggest lenders, which are also facing a public inquiry into serious misconduct, are trying to simplify their operations and sell non-core operations to help boost their business.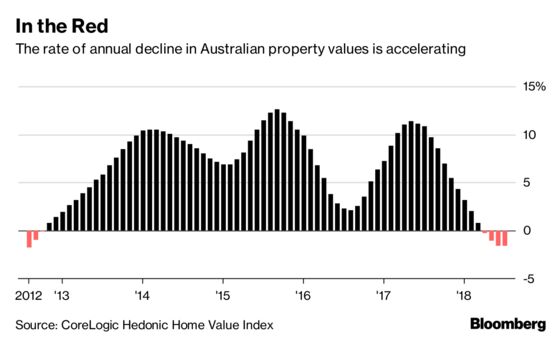 "Some of the banks have behaved poorly," Costello said of the inquiry. "It's clear that the people that were responsible for administering the banks probably haven't done their jobs."
The cost for Australian banks to borrow offshore has risen along with local bank-bill-swap rates. Libor, a key dollar-financing indicator, has also spiked this year, prompting banks in the South-Pacific nation to seek more funding at home and help push up local bond issuance.
Some Australian lenders including Macquarie Bank, Bendigo & Adelaide Bank Ltd. and AMP Bank have raised mortgage rates this year.
While the challenges buffeting some lenders appear to be rising, Costello reckons a slowing housing market might be a "good thing."
"Money is cheap and as we said before, that was putting asset prices up including house prices," he said. "Taking a little bit of heat out I think will be good."
Costello's comments were made after the Future Fund posted an annual return of 9.3 percent in the year ended June. The fund has returned 8.7 percent a year over the last decade, against a target benchmark return of 6.6 percent.