Box Targets Fall as Analysts Cite Weak Billings and Outlook
(Bloomberg) -- Box Inc. plummeted in early trading on Thursday after it reported fourth-quarter results and an outlook that was weaker than expected, prompting at least one analyst downgrade and other firms to lower their estimates.
The stock slumped as much as 23 percent, erasing about half of this year's rally.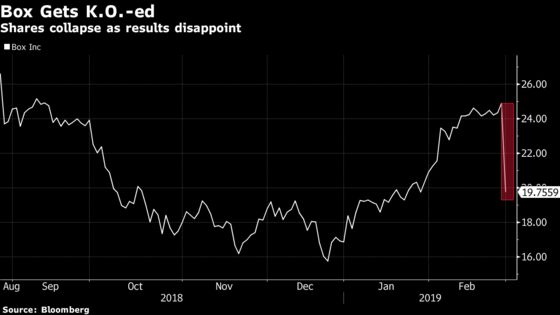 Here's what analysts are saying about the results:
KeyBanc Capital Markets, Rob Owens
The "highly anticipated" results were "marred" by a disappointing outlook, along with a weak reading on billings.
"Although Box remains a compelling asset over the medium term, the innovation of the company's offering appears to have outpaced the maturity of the sales motion upmarket."
There is "poor visibility into the organizational maturation required of reaccelerating top-line trends," and "the likely weight of lackluster sentiment" could linger around the stock.
Downgrades to sector weight from overweight.
Morgan Stanley, Melissa Franchi
The company's "focus on strategic selling has yet to yield gains as originally promised."
"While there are some encouraging metrics that suggest it may just be too early, investors' patience is likely to be tested."
The firm kept its equal weight rating "as we await better execution," but lowered its price target to $19 from $21.
Raymond James, Brian Peterson
While the firm had expected weak fourth-quarter billings, "clearly the level of shortfall (including slipped deals and an $8 million headwind from one large customer) was more pronounced than we anticipated."
Trims price target to $24 from $26. Suggests that "value oriented investors will step in" and buy the stock given the reaction to the results.
"BOX's top line was weak and the guide fell short too."
The firm has a neutral rating and a Street-low price target of $15, according to Bloomberg data.
What Bloomberg Intelligence Says

"More competition and pricing pressure from hyperscale providers is likely behind Box's conservative sales growth forecast." The company "is trying to offset margin pressure by curtailing sales and marketing spending, which is likely slowing the company's new-customer additions."
--Mandeep Singh and Andrew Eisenson, technology analysts
--Click here to read the research