Allergan Raises Forecast After Reporting Rising Sales of Botox
(Bloomberg) -- Drugmaker Allergan Plc raised its full-year forecast on Tuesday after reporting rising sales of its flagship product, the anti-wrinkle injection Botox.
The company expects full-year earnings of at least $16.55 a share, compared with the $16.43 average of analysts' estimates for the year. Read a full summary of the first-quarter results here.
The positive results could alleviate some of the pressure on Brent Saunders, Allergan's chief executive and chairman. As the stock has struggled compared with many other large drug companies, a handful of investors have called for the company to split his responsibilities in two, or to divest some assets. After winning a proxy battle to keep both roles, the positive results could buy Saunders more room.
Saunders said on a conference call that the board had engaged with more than 50 investors and was acutely aware of frustrations. He said he's open to a split as one possible option and that there's a sense of urgency to make changes. He didn't specify what those might be, leaving investors with more questions than answers.
Botox sales for the quarter were $868.4 million, handily beating the $761.8 million average of analysts' estimates. Allergan is fighting to defend its turf as competitors are bringing new alternatives to the facial injection market that Allergan has long dominated.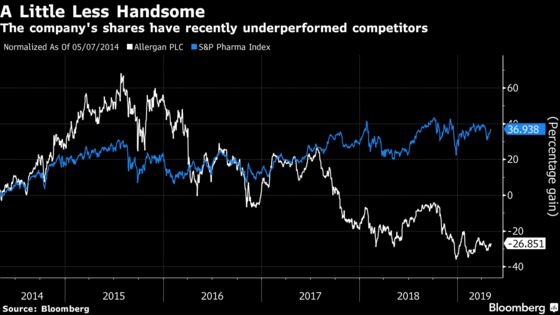 The company's shares have lost 27 percent of their value over the last five years, compared with a 37 percent gain in the S&P 500 subindex on drug companies. The stock fell 4 percent to $141.93 at 9:48 a.m. in New York.
Read the company's news release here.