Boston Beer Buzz Wanes With Results Prompting Biggest Fall in 3 Years
(Bloomberg) -- Boston Beer Co.'s second-quarter earnings report Thursday is causing a sobering hangover Friday.
The craft brewer's shares fell as much as 15.5 percent, the most intraday since February 2015, after earnings per share of $1.98 missed the consensus estimate by 30 percent. Margins narrowed due to heavy spending on advertising and promotions meant to revive the company's declining flagship Samuel Adams, though its Truly Spiked & Sparkling hard seltzer, Angry Orchard cider and Twisted Tea brands continued to grow.
Boston Beer traded at a 27 percent premium to the average analyst target price at Wednesday's record close, but that gap has now closed to less than 10 percent.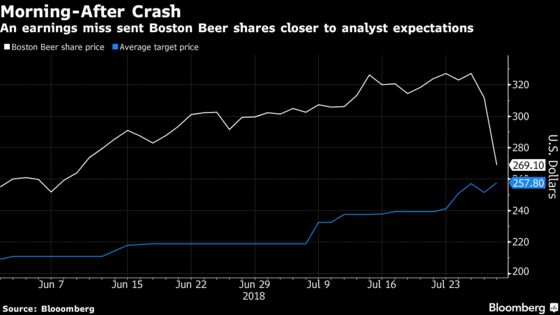 Boston Beer founder and chairman Jim Koch doubled down on the company's commitment to Samuel Adams beer on the earnings call late Thursday, calling it "the heart and soul of Boston Beer Company." Bloomberg Intelligence food & beverage analyst Kenneth Shea agreed that the company needs to keep its beer alive, especially as competitors including Mike's Hard Beverage Co. and larger beverage companies muscle in on Boston Beer's other markets, such as Truly's seltzer.
"They can't just let Sam Adams go," Shea said. "Truly -- today their biggest competitor is a small operation, Mike's with White Claw -- but who's to say the big dollars at Miller Coors and Diageo, who want that market too, won't come on strong? And if they do, Truly I think is truly in trouble."
Cowen analyst Vivien Azer lowered her target price to $300 Friday from what had been a Street-high $350, citing Boston Beer's revised gross margin forecast, and Macquarie analyst Caroline Levy reiterated her underperform rating due to higher advertising spending, freight costs and supply constraints.
Even with Friday's fall, investors who bought into Boston Beer a year ago have seen shares rise more than 100 percent. But optimists are now fighting the first major sign of trouble around the company's non-beer honeymoon.