Johnson Faces United EU Front on Return to Brexit Talks
(Bloomberg) -- European Union leaders won't let Boris Johnson enter into tete-a-tetes with national heads of government and are determined to maintain a common wall behind Commission President Ursula von der Leyen on Brexit.
Von der Leyen conferred with Germany's Angela Merkel and Emmanuel Macron of France before inviting Johnson to the EU capital in the coming days and they came up with a strategy to contain the British prime minister.
EU leaders have seen in the past how Johnson can deploy his charisma to bend the political agenda and they decided that he won't get to bypass the commission and stitch together a deal with either the German or French leaders directly, officials said.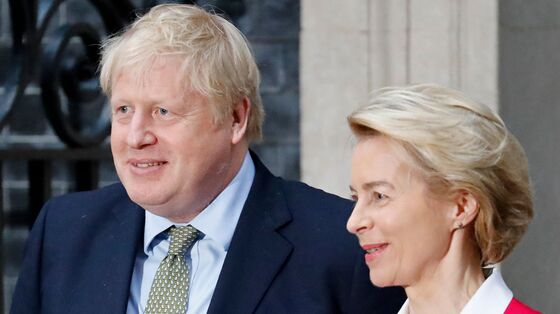 That was the thrust of a call that also included Charles Michel, president of the EU leaders' council, in which von der Leyen, Merkel and Macron agreed that Brexit negotiations should not make it onto a packed agenda for this week's summit, according to two officials familiar with that discussion.
"You've got to be optimistic, you've got to believe that there's the power of sweet reason to get this thing over the line," Johnson told reporters on Tuesday. "But I've got to tell you, it's looking very, very difficult at the moment."
The risk for the EU is that if Johnson doesn't get anything out of the trip, he will walk away from talks and the prospect of a no-deal Brexit -- a potential economic catastrophe for both sides -- will become all the more real.
On Tuesday, the U.K. government extended an olive branch by dropping controversial parts to an internal bill that would have given it the power to unilaterally override the Brexit divorce treaty.
EU leaders have enough on their plates already as they prepare for a meeting that will determine whether the bloc emerges stronger and more unified from the pandemic or facing fundamental breaches between members.
They are struggling to break the deadlock over a 1.8 trillion-euro ($2.2 trillion) spending program and are due to discuss plans for ambitious new climate goals and efforts to contain the coronavirus, which is killing hundreds of people every day.
Officials on Monday said that Johnson may have been seeking meetings with Merkel and Macron. But they are backing von der Leyen to handle the political discussions on a future trade deal with the U.K.
By refusing to open up Brexit for debate among the 27 national leaders, the EU is signaling that it is not inclined to change chief negotiator Michel Barnier's mandate nor make any major last-minute concessions to the U.K.
Another EU official said it had been made to clear to Johnson that direct talks with leaders were off the table when he spoke with von der Leyen to set up what may be a final attempt to reach a deal.
For weeks EU officials familiar with the state of trade talks have repeatedly said that a final agreement will depend on Johnson taking the necessary political decisions to reach a deal, as technical talks have hit a brick wall. Merkel has insisted the EU too must make compromises.
"What we need is political will in London," Michael Roth, Germany's EU affairs minister, told reporters on Tuesday. "Our future relationship is based on trust and confidence. It's precisely that confidence that is at stake in our negotiations right now."
EU leaders have long held the position that detailed Brexit negotiations should not take place at a European summit and one EU official said there was no reason to shift tactics now. Another official from a major EU government said that Barnier and von der Leyen were fully in sync with EU leaders and there was nothing to be gained from taking the issue to the council meeting.
With the prospects of a final agreement hanging in the balance, Brexit negotiations have made little progress in recent days as significant differences between the two sides remain on the issues of fisheries, a competitive level playing field and how to enforce a deal.
Barnier told EU diplomats on Monday that the two sides were still distant on the issues, particularly on the level playing field where the U.K. was among other things resisting the introduction of unilateral measures in the event of treaty infringements and cross-retaliation clauses that would allow one party to target a specific industry in the event of a breach in another sector.
The EU's chief Brexit negotiator told the ambassadors that throughout the negotiations the U.K. has underlined the importance of sovereignty where it opposes alignment with the EU, but hasn't mentioned it in other sectors, such as energy and transport, where it wants a relationship as close as possible to the status quo, according to a diplomatic note of the meeting seen by Bloomberg.
On fisheries, the U.K. has asked to negotiate fishing quotas for some species directly with coastal nations, including non-EU members, and not as part of an overall agreement with the European Commission. Barnier told the ambassadors this position was problematic.
Several diplomatic envoys, including France and Denmark, reaffirmed that the content of any agreement was more important than finalizing a deal before the end of the year. The British government has ruled out continuing talks after Dec. 31.
"We're always hopeful," Johnson said. "But you know there may come a moment when we have to acknowledge" that there won't be a deal.