U.K.'s Johnson in Hospital With Persistent Virus Symptoms
(Bloomberg) -- U.K. Prime Minister Boris Johnson was taken into the hospital for tests on Sunday as a precaution, after struggling to recover from the coronavirus infection he contracted 10 days ago.
Johnson, 55, felt unwell March 26 and took a test that confirmed he had the illness. The day after he announced he was in isolation, and has been unable to shake off the symptoms -- including a high temperature. The pound fell.
"On the advice of his doctor, the prime minister has tonight been admitted to hospital for tests," a spokesperson for Johnson's office said Sunday. "This is a precautionary step, as the prime minister continues to have persistent symptoms of coronavirus."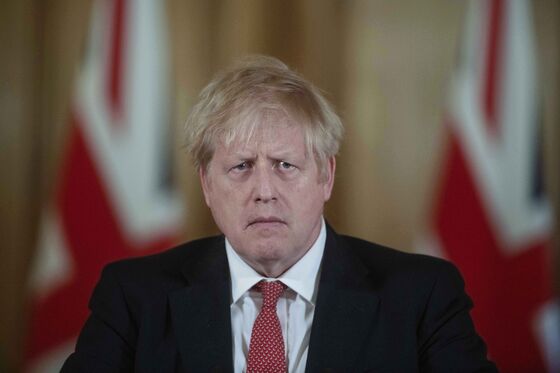 Johnson is likely to stay in hospital overnight, but remains in charge of the government, and is in contact with senior colleagues an official said.
First Secretary of State Dominic Raab, who is also foreign secretary, is expected to chair the government's daily coronavirus "war cabinet" meeting at 9:15 a.m. on Monday, the official added. Should Johnson be unable to carry out further duties, Raab as his de facto deputy, would take over.
Johnson ordered a national lockdown on March 23 and has been shut away in his Downing Street apartment, in keeping with his own government's guidelines. Officials have been bringing him his paperwork and meals and leaving them at his door.
Johnson's fiancee Carrie Symonds, who is pregnant, has also been self isolating with symptoms of the virus for the past week.
The British leader's strategy for defeating the virus has come under attack in the past month. His government has been criticized by medical experts and politicians for failing to conduct enough tests, and was accused of taking too long to impose strict social distancing measures on the population.
So far, 4,934 people have died in the outbreak in the U.K. The government reported 621 new coronavirus deaths on Sunday, a lower daily rise than in the previous 24 hours, but Johnson's advisers warned that the trend was clearly increasing and the peak of the infection could be coming in the next 7-10 days.
The government said on Sunday that stricter measures may be imposed -- including potentially banning all exercise outside -- if it's necessary to stop people defying the rules and making the outbreak worse.
In a rare televised address to the nation, Queen Elizabeth II urged the public to stay resolute and keep following orders to remain at home. She recalled the spirit of sacrifice and unity that saw the country through World War II.