Booze, Overseas Growth Keep Theater Chains Afloat in Netflix Era
(Bloomberg) -- The age of Netflix is changing life in the theater business.
With more consumers getting their entertainment at home, there's less dependable demand for movie tickets, especially in the U.S. That's prompted the industry to consolidate, look to international markets for growth, and turn on the beer tap.
Each year, Box Office Co. tracks changes among movie exhibitors. Here are what its experts pointed to as some of the biggest trends shaping theaters in 2020.
1. Mom and Pop Close Shop
A few decades ago, it wouldn't be unheard of to know the person who owned the local movie theater. The industry was primarily a regional affair. Today, most chains are owned by conglomerates. That means the roughly 43,000 screens in the U.S. and Canada are concentrated in a small number of hands.
The consolidation was partly driven by the rise of digital films. "That permitted the overseas box office to explode since they weren't shipping actual cans of film," said Daniel Loria, editorial director at Box Office Co. As growth accelerated in foreign markets, major multinationals were best poised to win market share both at home and abroad.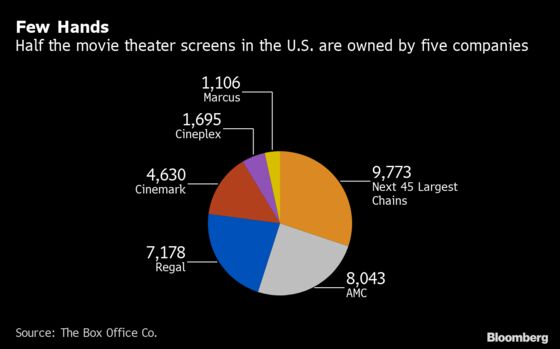 The number of screens in the U.S. and Canada has been flat since at least 2014, with Loria estimating that the trend will continue through 2020. But it's not all bad news. Consumers are increasingly willing to spend more per ticket, helping keep overall sales near an all-time high.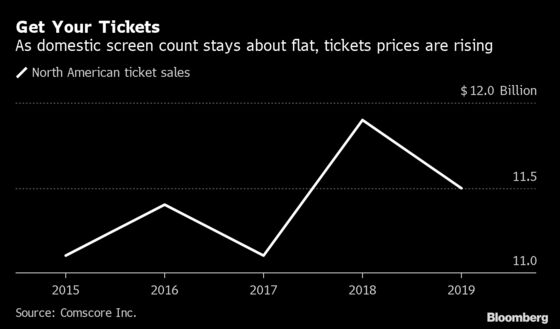 What takes the sting out of a higher ticket price? A cold, refreshing beer. Every major chain has now installed a premium kitchen in one or all of its locations, and booze sales are rising, according to Loria. To get customers off their sofa and away from Netflix, theaters are trying to make the cinema experience feel more "premium," he said.
One chain capitalizing on that trend especially well is Alamo Drafthouse, popular for its restaurant-level service and recliner chairs. While the number of overall screens in the U.S. has plateaued, Alamo Drafthouse is growing rapidly.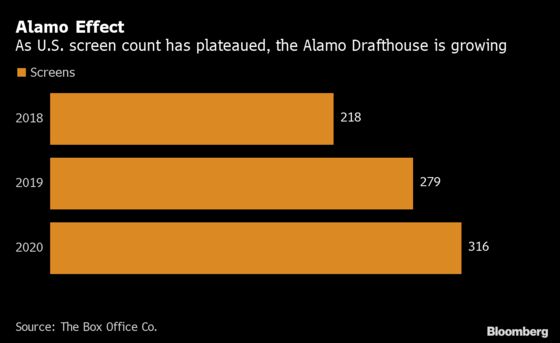 China is a driving force behind cinema screen growth. The number of screens in the Asia-Pacific region has soared over the past decade, and will likely keep growing, according to Loria. That means chains will have their eye on the impact of coronavirus, which shuttered theaters in the midst of the Lunar New Year, a popular time for a trip to the movies in China.
South Korea and Japan also are adding more screens, meaning the future of the theater industry lies squarely in Asia.