Booming London Defies Weak Second Quarter for Britain's Economy
The London economy grew more than twice as quickly as its nearest rival in the second quarter, underscoring the challenge facing Prime Minister Boris Johnson as he seeks to "level up" poorer regions of the U.K.
Financial services helped the capital city's gross domestic product rise 4.5% from a year earlier, the Office for National Statistics said Friday.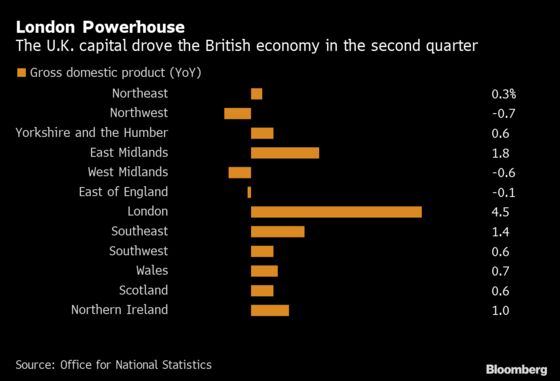 On average, the other 11 regions of the U.K. grew by just 0.5%. The East Midlands expanded by 1.8%, followed by southeast England and Northern Ireland. Three regions -- the northwest, the West Midlands and eastern England -- saw GDP decline.
Voters outside southeast England who supported Johnson's Conservatives for the first time were to key to his victory in the December general election. In return, he has pledged to raise living standards in struggling parts of the country, with the budget on March 11 expected to unveil billions of pounds of new infrastructure spending to spur productivity.
Quarterly figures showed a similar pattern, with the London economy gaining 1% following 1.6% growth in the first quarter. The finance industry was the biggest contributor to growth in the capital, helping to offset a sharp fall in construction.
England as a whole shrank by 0.1%, with the northeast and the northwest both contracting 1.6%.
The U.K. economy as a whole was adversely affected by firms running down stocks built up ahead of the original March 29 deadline to the leave the European Union. GDP nationally fell by 0.2% from the first quarter.