Booking Shares Slide After Results Show Lingering Covid Effects
(Bloomberg) -- Booking Holdings Inc. the world's biggest online travel agency, reported a 63% drop in sales in the fourth quarter reflecting a surge in Covid-19 cases and new lockdowns that weighed on the industry. The shares fell as much as 6.2% Thursday after closing at a record high on Wednesday.
Sales plunged from a year earlier to $1.2 billion, in line with analysts average projection. Room-night reservations dropped 60% compared with a year earlier, the Norwalk, Connecticut-based company said in the statement. Gross travel bookings, which reflect all travel services booked by customers, fell 65% to $7.3 billion during the period.
"The travel environment continued to be challenging through the fourth quarter of 2020 and into January 2021 as Covid-19 case counts remained very high and travel restrictions were reimposed in many parts of the world," said Chief Executive Officer Glenn Fogel in a statement Wednesday.
The shares fell the most since June to $2,292.10.
Booking, which runs major travel brands including Priceline and Kayak, has been slammed by the pandemic as global borders closed and city lockdowns shuttered tourist attractions and business conventions. Like its travel industry peers, including Expedia Group Inc. and Airbnb Inc., Booking endured steep loses and was forced to eliminate thousands of jobs. While travel demand trickled back in the summer, the fall and winter saw a resurgence of infections, prompting a new wave of restrictions.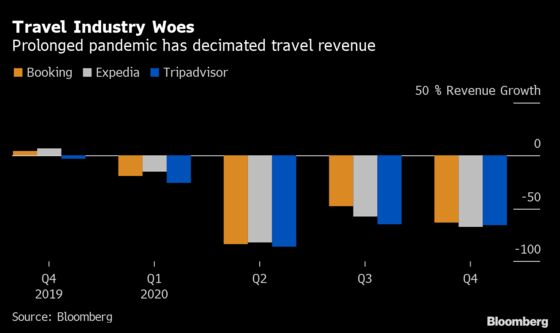 But with vaccines being rolled out to increasingly large swaths of the population, investors are looking ahead and betting on a post-pandemic world, said Dan Wasiolek, an analyst at Morningstar Inc.
"A lot of optimism is priced in the stocks," Wasiolek said, referring to soaring travel stocks. Booking is up 36% from a year ago and hit its highest since 1999 earlier on Wednesday. Expedia and Tripadvisor Inc. shares were also well above pre-pandemic levels.
Morningstar anticipates a travel rebound in the second half of 2021, and a full recovery by 2023. A recent travel report by Expedia found that 46% of people said they are more willing to travel once a vaccine is widely available. Some 44% of respondents said they will take more trips this year than last.
Fogel shared signs of rebounding travel demand in 2021 on an investor call Wednesday afternoon.
"We are tracking early signs of encouraging summer booking trends in Western Europe, primarily the U.K. and Germany," Fogel said.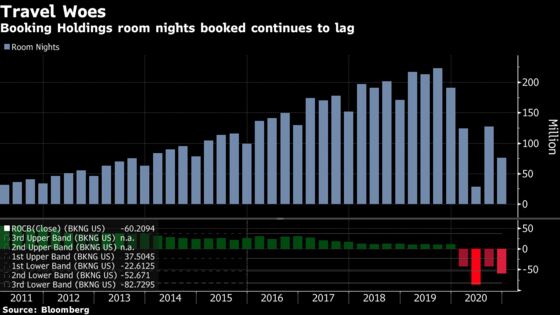 The company, formerly known as Priceline, gets almost 90% of its revenue from international markets. It is especially exposed to Europe, which has generally experienced tougher Covid-19 restrictions. This could slow a recovery at Booking since demand rebound has been stronger in North America, said Bloomberg Intelligence analyst Matthew Martino.
Revenue declines in the fourth quarter were driven by Europe, while sales in North America were similar to the third quarter, and sales in Asia improved, said Chief Financial Officer David Goulden on the call. He also said that in the past seven days, room-night reservations were down 50%, a 10 percentage point improvement from the fourth quarter of 2020.
Alternate accommodations have been a relative bright spot for Booking. Travelers have opted for non-hotel accommodations throughout the pandemic, looking for socially distanced getaways and work-from-home staycations. These homes, apartments, and non-hotel accommodations account for more than 6.5 million listings across Bookings' sites.
"They've grown this business organically, as opposed to Expedia, which bought Vrbo," Martino said.
In response to the success of Airbnb, Fogel said that Booking plans to increase its whole-home rental offerings in the U.S, as they are currently focused on the European market. "It is a product that people want and we need to have more of it," Fogel said.
Booking expects an annualized savings of about $370 million due to job cuts that hit 23% of the company, Fogel said. One analyst on the call said that working at Booking may feel like a "hypergrowth startup" once demand returns, due to thin staffing.
Booking reported an adjusted loss before interest, taxes, depreciation and amortization of $38 million, while analysts were expecting a loss of $41.7 million. The adjusted loss per share was 57 cents.
The shares fell 4% Thursday morning in New York after closing at a record high of $2,443.50 Wednesday. The stock has gained 5% this year.