Booking Holdings Beats Forecasts as Vaccines Spur Travel Rebound
(Bloomberg) -- Booking Holdings Inc. reported gross bookings that beat analysts' forecasts, as an increase in Covid-19 vaccination rates in some markets helped spur a travel rebound before the delta variant of the coronavirus set in. The shares jumped in extended trading.
The online travel giant said gross bookings, which represent all travel services -- excluding cancellations -- booked by customers increased 77% from a year earlier to $23.7 billion in the three months ended in September, beating analysts' projections for $21.6 billion, according to data compiled by Bloomberg. Revenue rose 77% to $4.68 billion, better than forecasts for $4.3 billion, according to a statement Wednesday.
The travel industry was banking on a surge in demand for flights and hotel rooms this summer after vaccines became more widely available in many countries this spring. But the highly transmissible delta variant of the coronavirus has pushed cases, hospitalizations and deaths back to levels seen last winter and discouraged people from leaving home. 
Booking warned about the potential impact of the Delta variant on third-quarter results back in August. Chief Executive Officer Glenn Fogel said on the previous quarter's conference call that some newly imposed travel restrictions led to a modest pullback in booking trends in July compared with June. Rivals Expedia Group Inc. and Airbnb Inc. face similar challenges and are releasing earnings on Thursday. 
"We are encouraged by the signs of recovery we saw in many parts of the world in the third quarter, and our teams are working hard to continue to strengthen our company's position," Fogel said in the statement Wednesday. 
The U.S. is set to lift travel restrictions for vaccinated foreigners entering the country on Nov. 8, which could lead to an increase in demand for accommodations, flights, restaurants and car rentals through the end of the year. Booking owns several of the world's top travel tools including flight aggregator Kayak, discount travel booking site Priceline and restaurant reservation site OpenTable. Booking Holdings, based in Norwalk, Connecticut, gets about 90% of its revenue from outside the U.S.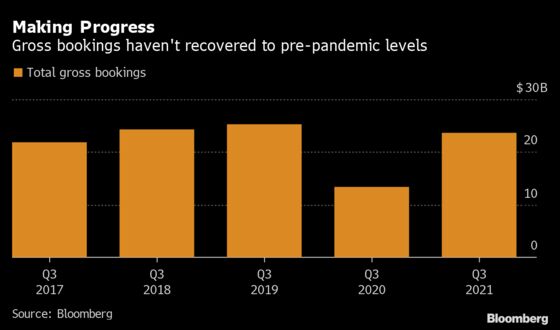 Booking's largest market is Europe, which is lagging behind the U.S. in Covid-19 recovery. But Dan Wasiolek, an analyst at Morningstar Investment Service, said there is now a "really strong improvement in European demand."
Booking reported earnings per share excluding some costs of $37.70 in the third quarter, beating analysts' expectations of $32.23. The shares rose 7% in extended trading in New York. The stock has gained 9.3% this year through the close of trading Wednesday, lagging the 24% increase in the S&P 500 and double-digit gains by Expedia and Airbnb.