Boohoo Revives the Noughties, Paris Hilton Included
(Bloomberg Opinion) -- Boohoo Group Plc is going back to the noughties, with a campaign featuring one of the original fashion influencers, Paris Hilton.
The online retailer is going retro in other ways too: traveling to a time when British consumers still snapped up the latest trends and weren't worried about Brexit.
After Next Plc upgraded its 2018 profit forecast, Boohoo raised its forecast for full-year revenue growth on Wednesday to between 38 percent and 43 percent from 35 percent to 40 percent.

There is a common denominator. Both sell online, which means they were able to take particular advantage of the hot summer and ship strappy tops, sandals and floaty animal print skirts to customers in quick time.
Boohoo's performance -- it also reiterated that it expects to report an Ebitda margin of between 9 and 10 percent -- is particularly reassuring given the concern that the switch to a new warehouse for its PrettyLittleThing brand had disrupted sales.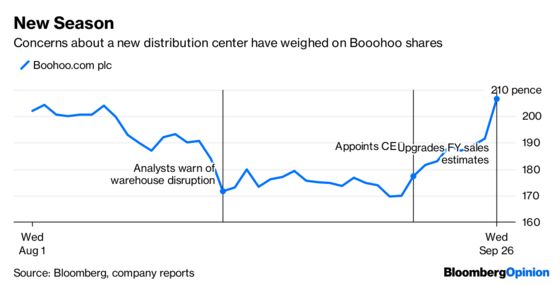 But for the whole online retail industry, revenue growth comes at a cost: internet-based retailers must invest in providing customers with the best service, and extensive distribution infrastructure.
Boohoo is no exception to this rule: capital expenditure jumped by 50 percent in the six months through August, d the company expects to spend as much as 60 million pounds ($79 million) in the fiscal year. Luckily it can afford it: the retailer had net cash of 155.6 million pounds at the end of the first half.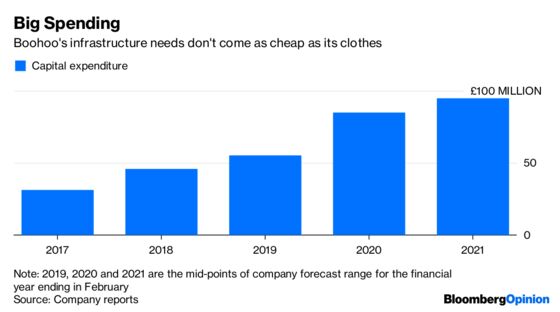 Concerns over the Pretty Little Thing warehouse move had weighed on the shares over the past few months. Even with Wednesday's 7 percent increase, they are still down 21 percent on the year.
Even so, they still trade at about twice forward sales, a premium to online peers Asos and Zalando. That's justified by the fact that Boohoo is growing at a faster pace than the more-mature Asos. It has also avoided the profit warning that sent Zalando shares tumbling last week.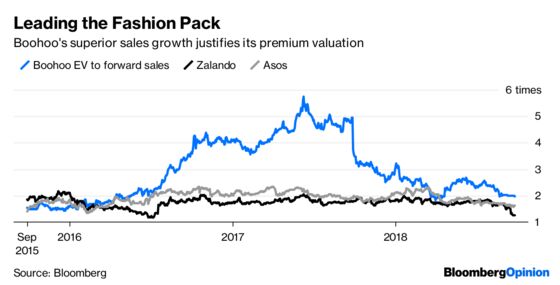 But the high rating means Boohoo can't afford any slip ups. And its spending will ramp up further over the next few years. The retailer's latest campaign features the strapline "do your thing." To maintain its stellar valuation, it will need to do that – and more.
This column does not necessarily reflect the opinion of the editorial board or Bloomberg LP and its owners.
Andrea Felsted is a Bloomberg Opinion columnist covering the consumer and retail industries. She previously worked at the Financial Times.