Boohoo Falls on Report Audit Firms Decline to Work With Retailer
(Bloomberg) -- Boohoo Group Plc, the scandal-hit fast-fashion retailer, may struggle to line up a top-flight audit firm after parting ways with PricewaterhouseCoopers.
Four accounting companies, including Deloitte and Grant Thornton, have already ruled out working with Boohoo, the Telegraph reported, citing unidentified people.
"It's not exactly a shock that some of the big players in auditing are not bidding to become Boohoo's auditor," David Madden, an analyst at CMC Markets, said in an email. "The failings at the fashion house have impacted the group's reputation."
An independent review released last month found that some of Boohoo's U.K. garment suppliers were paying less than minimum wage and skimping on safety precautions at factories in Leicester amid a flareup of Covid-19. The review found no evidence that Boohoo was directly involved in any abuses, however, and the company pledged to fight problems at suppliers by improving its auditing.
Still, the review painted an unflattering picture. It found that directors at Boohoo had known since December there were "very serious issues" about how workers at Leicester factories were being treated, and its remedies were insufficient, said Alison Levitt, a lawyer and former U.K. public prosecutor who conducted the review.
Boohoo shares dropped 20% on Monday after the company said it would seek to replace PwC, which had signed off on its 2020 accounts with an unqualified opinion. The stock fell further on Tuesday after the Telegraph report.
Boohoo's Labor Issues May Haunt in Search for New Auditor: React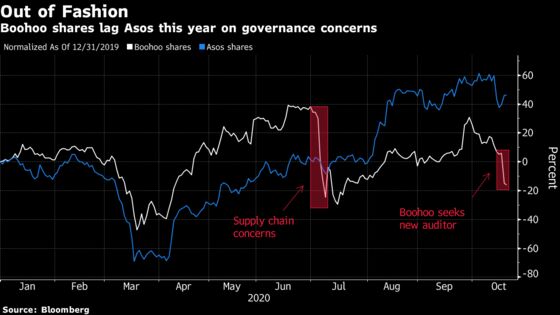 Boohoo aims to appoint a new auditor by late November and still hopes to get a top-ranking firm, said a person familiar with the matter who asked not to be identified.
A spokesperson for Boohoo declined to comment.
KPMG said it's not seeking the auditing role because of independence rules. BDO has also decided against working for the retailer, the Telegraph said. Representatives for BDO, Deloitte and Grant Thornton declined to comment.
With PwC also out of the picture, Ernst & Young remains the last major firm in the running. As in all auditing decisions, EY said it will "consider the company concerned, including its governance and internal controls, EY's available audit resources and the public interest, before reaching a conclusion."
It's too soon to say whether any damage to Boohoo's standing will slow the online retailer's rapid growth. The company raised its full-year revenue forecast on Sept. 30 after reporting strong sales.