Boohoo Faces Request for U.S. Import Ban Over Labor Concerns
(Bloomberg) -- A charity campaigning against modern-day slavery has petitioned U.S. Customs and Border Protection to ban clothing imports from Boohoo Group Plc and most factories in Leicester, England.
Liberty Shared, based in Washington, D.C., said it submitted two petitions at the beginning of February asking for an investigation as the concentration of suppliers in Leicester, the main U.K. hub for clothing manufacturing, means "products sold by Boohoo are potentially produced at least in part by forced labor."
The U.S. bans many products believed to be produced with forced labor, including diamonds mined in Zimbabwe and furniture made in Mexican jails.
Shares in Boohoo, an online fast-fashion retailer, fell more than 7% in London in early trading.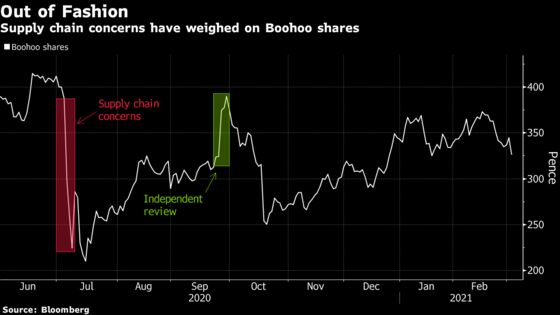 The company has not been notified of any investigations by U.S. customs officials, a spokesman for Boohoo said in an emailed statement. The retailer is confident that all products meet or exceed the agency's criteria on "preventing the product of forced labor entering the U.S. or any of our markets," he said.
U.K. enforcement bodies have found no evidence of modern-day slavery after months of investigations, the spokesman said.
From March through August, sales in the U.S. nearly doubled year-on-year, reaching 202 million pounds ($280 million), Boohoo said in September.
NastyGal, PrettyLittleThing
The company, which owns the brands NastyGal and PrettyLittleThing, is known for producing catwalk-inspired items within a few weeks, selling them only online. It sources 40% of its garments from the U.K., mostly from Leicester, rather than from overseas, in order to process faster orders.
The retailer's supply chain has been under intense focus in the past year since allegations emerged that workers at supplier factories in Leicester were paid less than minimum wage and were working in unsafe conditions. Boohoo commissioned Alison Levitt, a prominent U.K. lawyer, to carry out an independent review, which found that Boohoo had prioritized profit and growth and ignored concerns about labor violations.
The review cleared the company of direct involvement. Boohoo has appointed U.K. judge Brian Leveson to supervise an overhaul of its processes.