Bondholders Brace for Fallout as Super League Disintegrates
Bondholders in the niche corner of European soccer club debt are bracing for the defeat of a controversial elite tournament by a ferocious counter-attack from fans and politicians.
The crumbling of the rebel league leaves investors in the debt of European Super League founder clubs such as Juventus FC and Inter Milan facing a number of penalties. Instead of benefiting from an almost guaranteed stream of income, they're now left holding the bonds of storied soccer brands dragged through the mire by their association with a deeply unpopular enterprise.
All six English teams that were supposed to take part have now withdrawn from the planned championship. Atletico Madrid, AC Milan and Inter also announced they are pulling out on Wednesday. Juventus Chairman Andrea Agnelli said it can no longer go ahead, according to a spokesman.
The collapse of the Super League "would lead to brand damage without any compensation in an already precarious financial situation," said Giorgio Bertoli, a portfolio manager at Banca del Sempione SA, who holds some of the bonds of Juventus FC, one of the three Italian clubs to join the Super League.
Spokespeople for Juventus and Inter Milan did not respond to calls seeking comment.
The Italian champions, which have a 175 million euro ($210 million) 2024-dated bond outstanding, disclosed a net loss of almost 90 million euros ($108 million) for the 2019-20 season.
They were not alone. Only two of the original 12 co-founders of the Super League ended the season with a profit, according to data compiled by KPMG. Domestic rivals Inter Milan, also an issuer of bond debt, fared even worse, losing more than 100 million euros.
Real Madrid President Florentino Perez, the first chairman of the Super League, told Spanish TV on Monday night that the plans would "save football," because the debts and revenue crunch facing clubs meant they were "on the edge of ruin."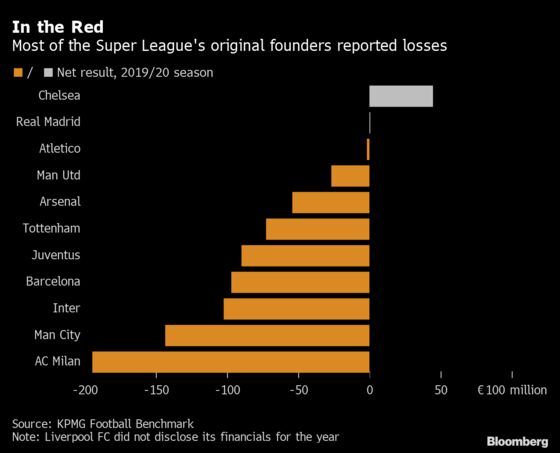 For Bertoli, himself a Juventus fan, the Super League would be "very positive" for the club, given its promise to increase revenues and provide long-term stability for a business hitherto prone to the vagaries of performances on the pitch.
The Super League promised to guarantee a place in an elite club competition, with no qualification requirement. The current top competition, the Champions League organized by the Union of European Football Associations, or UEFA, requires clubs to finish at or near the top of their domestic leagues.
When the Super League was first announced on Sunday, UEFA and national associations threatened to ban clubs from playing in other competitions at domestic and European level. It's still unclear what punishment the breakaway clubs -- even those that have pulled out -- will suffer.
A closed Super League "makes a lot of sense from a business perspective, but football in Europe is considered also a social issue so it will be very hard to reconcile that," said Bertoli.