Bond Traders Lift 5-Year Inflation Outlook to Highest Since 2006
(Bloomberg) -- Bond market expectations for the pace of consumer price inflation over the coming half decade surged on Monday to the highest level since 2006.
The five-year breakeven rate, a measure based on the yield gap between inflation-linked debt and non-inflation securities, climbed as much as 3.4 basis points to 2.7327%, eclipsing a high from 2008. Meanwhile, nominal rates were kept relatively in check, with the five-year yield around one basis point lower at 0.76%.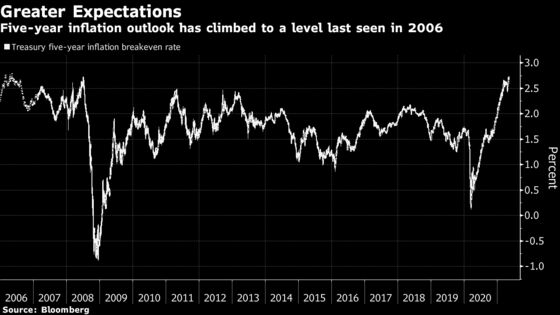 Monday's jump in breakeven rates comes amid a surge in prices for oil products after a cyber attack shut down a key U.S. pipeline. It adds to a longer-term uptick in inflation expectations that's been fueled by improving prospects for growth, plans for infrastructure spending and pandemic-related stimulus measures.
But the comparatively calmer environment around nominal yields indicates some investors remain hesitant about whether inflation expectations will be realized, and how long-lasting any economic momentum will be. Futures are still pricing in the Federal Reserve to hike rates in the first quarter of 2023, unchanged from where it was last week.
"The market is focused on whether the big structural factors holding down inflation for decades will become unleashed, and overwhelm the big economic strength we see right now." says Thomas Graff, a portfolio manager at Brown Advisory.
Gasoline futures traded at a nearly three-year high, bolstering expected inflation accruals for Treasury securities that are tied to the consumer-price index. Shorter-dated Treasury Inflation Protected Securities also got support from the Fed's purchase schedule, which Tuesday targets $2.425 billion of TIPS maturing in 1 to 7.5 years.
Breakevens got a boost Friday in the wake of a weaker-than-expected U.S. jobs report, with some market observers speculating that the labor-market situation could fuel wage inflation.