Bond Traders Lift 10-Year Inflation Outlook to Highest Since 2006
(Bloomberg) -- Bond market expectations for the pace of inflation over the coming decade on Friday climbed to a level unseen since 2006.
The so-called breakeven rate on 10-year Treasury inflation-protected securities rose more than five basis points to 2.76%. Breakeven rates have surged this week following a hotter-than-expected reading on the U.S. consumer price index.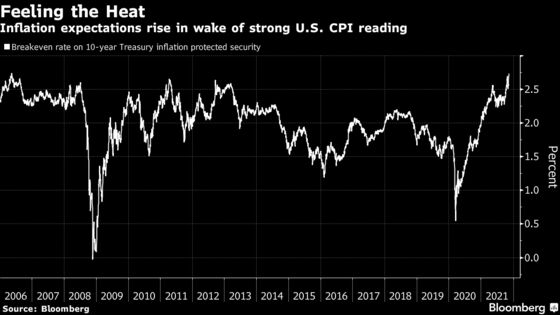 The move "reflects conviction that the inflation we have seen is proving less transitory than initially presumed," said Ben Jeffery, BMO Capital Markets strategist. 
The U.S. Consumer Price Index for October was up 6.2% from a year earlier, the fastest annual pace since 1990. Because inflation-protected Treasuries pay the CPI rate on top of their stated interest rate, the breakeven rate is the expected CPI rate over their term. It's the difference between the TIPS yield -- which for the 10-year declined to -1.21% Friday -- and a comparable Treasury yield, which is around 1.55%.
The bigger-than-expected jump in inflation is driving speculation that the Federal Reserve will raise interest rates sooner. More than half of respondents to a Bank of America survey said they expect the Fed's tapering of asset purchases -- which Fed officials have said is a precursor to raising rates -- to end in the second quarter of 2022 and rate hikes to begin in the third quarter. Inflation was cited as one of the biggest market risks for 2022 by the respondents.