Bond Traders Face More Volatility as Fed Uncertainty Increases
(Bloomberg) -- An apparent change in tone from top Federal Reserve policy makers could mean that muted volatility in the Treasury market is coming to an end.
That's the take from one bond-market veteran following comments last week from Federal Reserve Chairman Jerome Powell and Vice Chairman Richard Clarida that have dampened market expectations of central-bank increases.
"The Powell Fed has suddenly gone from gradualism and predictability, to data dependency and a level of policy implementation randomness," David Robin, a strategist at TJM Institutional Securities Services, wrote in a note Monday. "If every meeting is a live meeting, driven by inter-meeting data trends, the strategic market approach has to shift dramatically, and OPTION VOLATILITY IS MUCH TOO LOW."
A measure of volatility in the $15.4 trillion Treasury market, Bank of America Merrill Lynch's MOVE Index, last week rose 6.9 to 60.4. While that's the biggest move up in three weeks, the options-derived gauge is still below the nearly five-month peak it touched on Oct. 26, and not far above 2017's record low of around 44.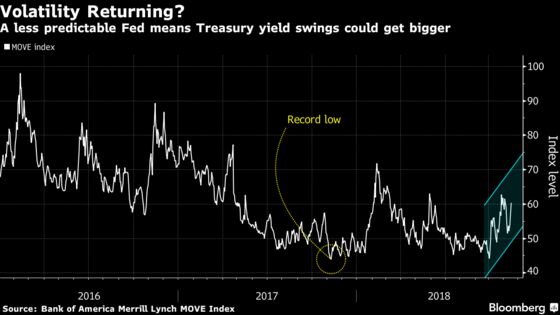 Meanwhile, the eurodollar market has trimmed the amount of Fed tightening it expects in 2019 to around 33 basis points, down from more than 50 earlier this month.
Open interest data from CME on Treasury futures suggest the sharp move in U.S. yields was driven by new longs rather than pre-weekend position squaring.
The moves follow remarks from Powell highlighting potential headwinds to the U.S. economy, and from Clarida that there is some evidence that the global economy is slowing. Only time will tell if these comments foreshadow an actual change in the Fed's rate-setting calculus, but they certainly have some questioning earlier assumptions.
"We did not foresee the Powell Fed as a 'go/stop/go' Fed," said Robin, who's been reading the tea leaves of debt markets and interest-rate derivatives since 1980. "But that now appears to be the case."