Traders Call on Bank of England to End Bond Buying Early
(Bloomberg) -- A dramatic cut to the U.K.'s bond supply in coming months is raising the possibility of the Bank of England resorting to a counter-intuitive move: ending quantitative easing to stabilize the market.
The central bank has been buying gilts for over 12 years since the financial crisis to keep yields low and trading orderly. Yet a larger-than-expected cut in bond sales announced last week sparked turbulence, sending long-term rates plunging and upending market dynamics with rare inversions of parts of the yield curve.
That's led some players to call on the BOE to end its bond-buying program early to improve liquidity. It has currently penciled in stopping QE in December, though policy makers could vote to bring that forward at a meeting this week.
"The market is having to digest an extreme scarcity of gilt supply between now and April 2022, yet we have our central bank exacerbating the problem by taking a further 20 billion pounds of gilts out of the market between now and early December," said Aaron Rock, an investment director at abrdn plc in Edinburgh. "Quite frankly it makes no sense."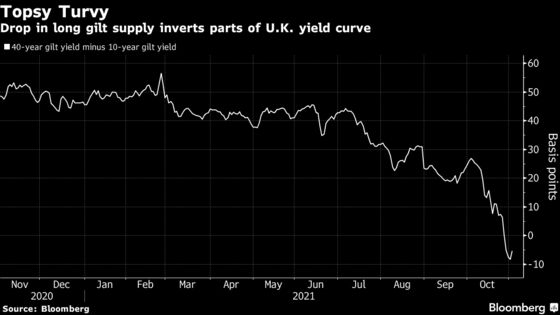 The BOE's predicament is complicated by markets almost fully pricing in a 15-basis-point rise in its key interest rate on Thursday. Keeping the bond-buying program running while simultaneously hiking may send a confusing message.
Yet ending it would go against previous guidance. The BOE said in September that any future tightening should start with a rate hike even if a move "became appropriate" before its bond-buying program finishes. Also, coming so soon after a budget that saw borrowing slashed, it might reawaken accusations that QE only existed to fund Chancellor of the Exchequer Rishi Sunak's emergency pandemic spending.
The BOE's answer, as it was to the original concerns over deficit financing, may lie in market stability. A majority of RBC Capital Markets' customers believe the BOE should end the program early, according to a sales note on Tuesday, after the broker warned there was a dearth of liquidity akin to conditions in March 2020.
"There has to be a strong market stability argument for ending early," RBC said in a recent report. "Anecdotally, market participants have not been shy about giving that message to the BOE."
Britain slashed bond sales to 194.8 billion pounds ($265.7 billion) last Wednesday, with long-end supply hit particularly hard. The cut was more than 50% larger than analysts in a Bloomberg survey forecast, leading to aggressive curve-flattening moves. Thirty-year gilt yields plunged by the most since March 2020 on the day of the announcement.
Still, ending QE early would risk jeopardizing future BOE communication, according to analysts at Nomura International Plc. Either way, the controversy looks set to make Thursday's meeting the most important this year.
"Should the Bank ultimately end any programme early, that could water down the potential announcement effect of future QE decisions as the markets might see QE as being an envelope rather than a target," said Nomura economist George Buckley. "Moreover, as we approach the end of the current QE programme, the benefit of ending purchases early becomes less relative to the potential cost of watering down future QE signaling."